With continued growth in the IBM Lotus Notes install base and expanding deployments of Microsoft SharePoint, there has been renewed discussion about the competitive environment of IBM Lotus Notes/Domino versus Microsoft SharePoint -- especially in light of a recent Forrester report entitled:
"Notes Versus SharePoint: Which Collaboration Platform Is Right For You?"
While this comparison is a timely topic for many organizations, it's useful to expand the scope of the analysis (Figure 1).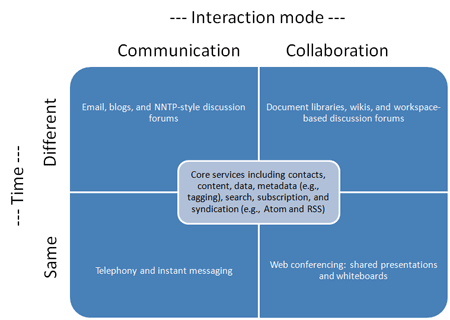 Figure 1. Communication and collaboration interaction alternatives for same- and different-time scenarios, all sharing a common set of core services.
This figure distinguishes between communication (the transmission of information from one point to another) and collaboration (joint purposeful activity) across time dimensions (same and different, i.e. synchronous and asynchronous). The model also identifies foundation-level services for content, data, metadata, search, subscription and syndication -- services that are ideally shared across all communication and collaboration domains.
In this context, it's clear that the Notes versus SharePoint position is only part of the story. IBM Lotus Notes and Domino are client and server solutions that work together to address a range of different-time communication and collaboration capabilities, including email, document libraries and discussion forums -- along with related application development frameworks and services.
Directly competitive Microsoft products include Outlook and Exchange Server for enterprise messaging and SharePoint for collaborative workspaces. Windows SharePoint Server (WSS), a suite of foundation-level collaboration services, and MOSS 2007 comprise the company's collaborative workspaces. IBM Lotus Sametime addresses on-premise, instant communication and collaboration requirements; Office Communications Server (OCS) is Microsoft's offering. Software-as-a-Service (SaaS) offerings in the real-time domain include IBM Lotus Sametime Unyte and Microsoft Live Meeting.
When comparing the companies' communication/collaboration product lines it's important to include social software services such as tagging ( IBM Lotus Connections) and other core services for search and subscriptions, along with suites of application developer tools (IBM Lotus Domino Designer and Microsoft SharePoint Designer).
Although it may seem counterintuitive to narrowly focus on the Notes versus SharePoint equation, it may be pivotal for organizations that are currently using Notes/Domino and also evaluating SharePoint. The fact that WSS is included with Windows Server is often the trigger for a Notes-versus-SharePoint assessment as organizations try to determine if WSS is a viable low- or no-cost alternative to the collaboration capabilities in Lotus Notes/Domino.
For organizations undertaking a comprehensive communication/collaboration comparison, the IBM Lotus offerings under review are likely to include Quickr, Connections and Sametime -- with Notes/Domino serving primarily as an optional underlying collaboration platform and email infrastructure. Quickr, Connections and Sametime can also be used in conjunction with the IBM WebSphere platform (which doesn't, however, offer the enterprise messaging features available with Notes/Domino). For organizations that aren't currently committed to Notes/Domino. In other words, Quickr and SharePoint are the most directly comparable offerings.
The Notes versus SharePoint context is part of a much broader communication/collaboration continuum, so administrators must also consider content and application migration requirements, as migrating from IBM to Microsoft communication/collaboration offerings (or vice versa) is rarely a "rip-and-replace" proposition.
ABOUT THE AUTHOR:
Peter O'Kelly is an independent software industry analyst and consultant. He has been focused on topics at the intersection of collaboration and information architecture for more than 25 years, and earlier in his career worked as a product manager and strategist for IBM, Groove Networks, Lotus Development Corp., and Macromedia. He blogs at http://pbokelly.blogspot.com/.
This was first published in December 2008