Q
2 mysterious parameters appearing in notes.ini file
I have a problem regarding the date format in my Notes client.
I want my date format to appear as dd/mm/yyyy. My W2K regional setting is set with English (United Kingdom) and date format of dd/mm/yyyy. My Notes User Preference regional setting is English.

Download this free guide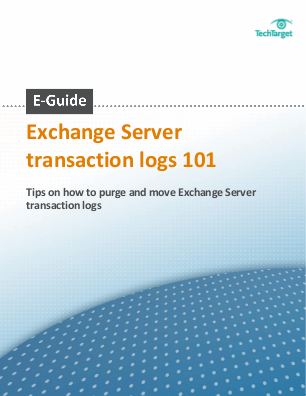 Download this strategic guide on moving Exchange Server transaction logs
Brush up on how log files have changed in Exchange to protect your setup against disaster, discover how to effectively purge transaction logs, and learn how to free up some of the disk space transaction logs have taken up on your drive.
By submitting your email address, you agree to receive emails regarding relevant topic offers from TechTarget and its partners. You can withdraw your consent at any time. Contact TechTarget at 275 Grove Street, Newton, MA.
You also agree that your personal information may be transferred and processed in the United States, and that you have read and agree to the Terms of Use and the Privacy Policy.

When I start my Notes client, the date format appears correctly initially in all the Notes databases. However, it will change to mm/dd/yyyy format after a while. The user preference remains unchanged and the date format in other softwares on my computer appears correctly (dd/mm/yyyy). This is the case each time I restart Notes. That is, the format is dd/mm/yyyy initially, but it changes to mm/dd/yyyy after a while.
I notice that there are 2 new parameters in my notes.ini added by the system:
Preference_en-US=,,,,2,,,,,
Preference_en=,,,,,,,en-GB:en,,
I closed my Notes client and remarked the above 2 statements and restarted my Notes client. Date format seems all right for a while, but it changed to mm/dd/yyyy again after a while. Upon examining my notes.ini, I noticed that the Preference_en=,,,,,,,en-GB:en,, line is added again.
I hope you can help to explain how the 2 parameters got into my notes.ini, what they mean and if that is causing the problem in my date format. Is there a Notes UI equivalent setting of these 2 parameters ? How do I resolve my date format display in my Notes client ?
The R5 client was designed so that it would use whatever currency/date/time international settings you have set in your operating system. I'm not sure why you would want to have your OS and Notes use different settings. You might want to check www.notes.net for an answer since they have a regular feature called 'Professor .ini' which gives valuable information about settings in the Notes.ini.
Have a question for an expert?
Please add a title for your question
Get answers from a TechTarget expert on whatever's puzzling you.