Q
Authenticating against Notes user base
Looking for something else?
I need to authenticate against our Notes user base and then transfer that information back to be used with an ASP.NET application. Here is the scenerio:

Download this free guide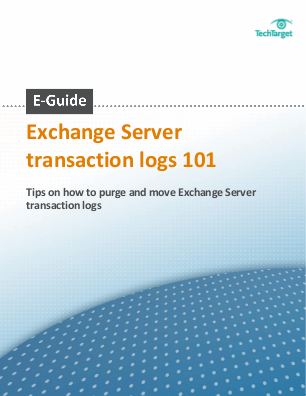 Download this strategic guide on moving Exchange Server transaction logs
Brush up on how log files have changed in Exchange to protect your setup against disaster, discover how to effectively purge transaction logs, and learn how to free up some of the disk space transaction logs have taken up on your drive.
By submitting your email address, you agree to receive emails regarding relevant topic offers from TechTarget and its partners. You can withdraw your consent at any time. Contact TechTarget at 275 Grove Street, Newton, MA.
You also agree that your personal information may be transferred and processed in the United States, and that you have read and agree to the Terms of Use and the Privacy Policy.

1. User navigates to ASP.NET page
2. Log in
3. Users information is authenticated against Notes and then given proper permissions to the asp.net application based on groups within Notes.
Versions:
Domino R5 5.09 on Windows 2000
ASP.Net 1.0 on Windows 2000 also has MSSQL database it uses for permissions and to hold Web site data.
Is it possible to pass the information into Notes? If so, what do I pass, where do I pass it to and what can I expect to recieve back?
I tried using pop which works, but the Notes administrator does not want to leave pop enabled on the server. Webmail is enabled on the server, so I thought using it some way was the best approach, but I'm not really sure. We are also using a database to re-direct users to their proper mail file "webmaildirect.nsf". It was downloaded from Snadbox or somewhere. I thought it may be possible to use this database if I had a clue where to start.
Microsoft IIS will authenticate using the hhttp://username:password@www.yoursite.com. The other option that should work is using LDAP.

Dig Deeper on Domino Resources - Part 2
Have a question for an expert?
Please add a title for your question
Get answers from a TechTarget expert on whatever's puzzling you.