Q
CLI certification path?
Looking for something else?
I just passed the CLP exam. I want to become a Certified Lotus Instructor, but the certification path for the CLI is unclear to me. Would you enlighten me on this?
To become a CLI there are a few things that you need to do.

Download this free guide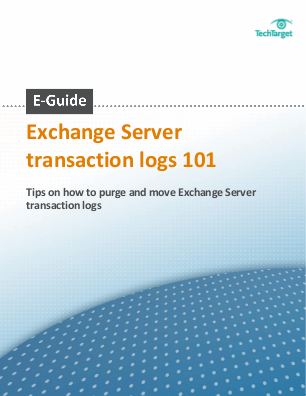 Download this strategic guide on moving Exchange Server transaction logs
Brush up on how log files have changed in Exchange to protect your setup against disaster, discover how to effectively purge transaction logs, and learn how to free up some of the disk space transaction logs have taken up on your drive.
By submitting your email address, you agree to receive emails regarding relevant topic offers from TechTarget and its partners. You can withdraw your consent at any time. Contact TechTarget at 275 Grove Street, Newton, MA.
You also agree that your personal information may be transferred and processed in the United States, and that you have read and agree to the Terms of Use and the Privacy Policy.

1. Achieve CLP status in Admin or ApDev
2. Complete the CLI application from and Instructor agreement from the Internet
3. Attend each of the courses that you intend to teach ("Sit the class" requirement) at an LAEC
4. Buy the instructor guide for the course you hope to teach (normally included in the CLI ICE)
5. Attend a CLI ICE (Instructor Certification Evaluation) session
Obviously you have achieved point 1.
Fill out the CLI application form which is available from the Lotus Web site here:
http://www.lotus.com/services/education.nsf/17f3af26d376c5b2852565590053078b/a116bdbdc4e2899c852565840080a273?OpenDocument
You will be informed by Lotus if your application is successful - then proceed to the next stage.
Number 3 is necessary, even if you have achieved your CLP without attending an LAEC class before. The point of this is to see how the class you hope to teach is actually presented.
Next you need to get in contact with your nearest Lotus office and find out when the next ICE course is running. Be aware - this is a participative course, you will be assessed on not only your knowledge of Notes/Domino - but also how well you present that knowledge by leading the class as the instructor.
If you are successful at the CLI ICE session and have fulfilled all of the other prerequisites - you will have met the requirements to become a CLI.

Dig Deeper on Domino Resources - Part 2
Have a question for an expert?
Please add a title for your question
Get answers from a TechTarget expert on whatever's puzzling you.