Q
How can I force a password prompt in Workflow?
I have a form on which I have a button to approve a document in a Workflow context. To meet some demands regarding security in the approval process, the user shall be forced to type in her password and the password should be validated. I have not found appropriate functions to help me accomplish this.

Download this free guide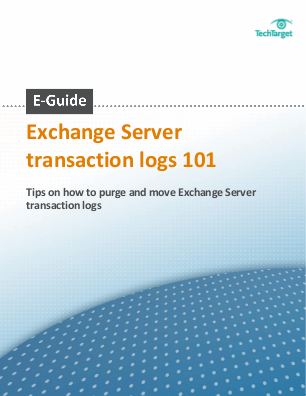 Download this strategic guide on moving Exchange Server transaction logs
Brush up on how log files have changed in Exchange to protect your setup against disaster, discover how to effectively purge transaction logs, and learn how to free up some of the disk space transaction logs have taken up on your drive.
By submitting your email address, you agree to receive emails regarding relevant topic offers from TechTarget and its partners. You can withdraw your consent at any time. Contact TechTarget at 275 Grove Street, Newton, MA.
You also agree that your personal information may be transferred and processed in the United States, and that you have read and agree to the Terms of Use and the Privacy Policy.

The button is programmed in LotusScript. I have tried to make a call to ToolsUserLogoff but notes doesn't care -- I open the database, save a document etc. and I'm still not prompted for a password. Can you help?
The following is the code bit that tries to prompt for a password without any effect:

----- 
'check if possible prompt is
 wanted - look in config. 

... 
 logoff = Evaluate("@Command
([ToolsUserLogoff])") 
... 
--- 

The @Command doesn't work in an Evaluate call. You may have to code your action button in macro language, as follows:
@Command([ToolsUserLogoff]); @Command([ToolsRunMacro]; " your agent")
and create a run-once LotusScript agent that the action calls, containing the rest of your code.

Dig Deeper on Lotus Notes Domino Formula Language
Have a question for an expert?
Please add a title for your question
Get answers from a TechTarget expert on whatever's puzzling you.