Q
How can I format an Excel spreadsheet with Notes?
I want to send information to an Excel spreadsheet. That works fine, but I would also like to be able to format the spreadsheet. Specifically, how do I tell it to center the text in a column? In Excel, a macro creates these lines:

Download this free guide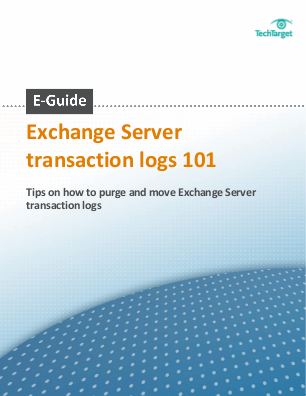 Download this strategic guide on moving Exchange Server transaction logs
Brush up on how log files have changed in Exchange to protect your setup against disaster, discover how to effectively purge transaction logs, and learn how to free up some of the disk space transaction logs have taken up on your drive.
By submitting your email address, you agree to receive emails regarding relevant topic offers from TechTarget and its partners. You can withdraw your consent at any time. Contact TechTarget at 275 Grove Street, Newton, MA.
You also agree that your personal information may be transferred and processed in the United States, and that you have read and agree to the Terms of Use and the Privacy Policy.

With Selection
.HorizontalAlignment = xlCenter
.VerticalAlignment = xlBottom
end With
But Notes doesn't understand xlCenter and xlBottom, so what codes am I supposed to use?
These are numeric constants defined in Excel VB, but not in LotusScript. To discover their values, create an Excel macro that displays them in a MsgBox:
Sub snoopy()
MsgBox "xlCenter = " & xlCenter & ", xlBottom = " & xlBottom
End Sub
For me, this generates the following output:
xlCenter = -4108, xlBottom = -4107
Now you can make your LotusScript code contain those same constants by adding the following statements in your Declarations section:
Const xlCenter = -4108 Const xlBottom = -4107
(You could just use the numbers in your code instead of constant names, but the constants make your code more readable).

Dig Deeper on Web Development for Lotus Notes Domino
Have a question for an expert?
Please add a title for your question
Get answers from a TechTarget expert on whatever's puzzling you.