Q
Is it possible to have a link in a browser that will open another DB?
I am developing an intranet for our company. I would like to launch my "home page" using the Internet browser, but then I would like to have a link on the home page that opens another page or form using Domino/Notes. It seems like if you first launch a database using an Internet browser, and then all other links to pages/views/forms open in the browser, as well.

Download this free guide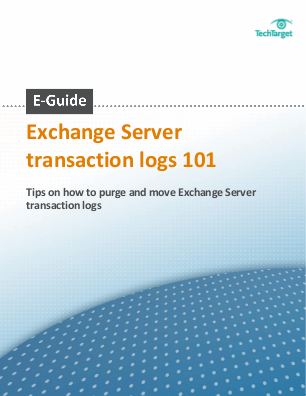 Download this strategic guide on moving Exchange Server transaction logs
Brush up on how log files have changed in Exchange to protect your setup against disaster, discover how to effectively purge transaction logs, and learn how to free up some of the disk space transaction logs have taken up on your drive.
By submitting your email address, you agree to receive emails regarding relevant topic offers from TechTarget and its partners. You can withdraw your consent at any time. Contact TechTarget at 275 Grove Street, Newton, MA.
You also agree that your personal information may be transferred and processed in the United States, and that you have read and agree to the Terms of Use and the Privacy Policy.

So my question is: Is there a way to open a page or frameset in the browser, but have links to another Notes database on that page or frameset that will open another database using the Domino/Notes browser? This again is just an intranet for our employees. I want them to be able to use an address to open to home page, but then I would like them to be able to open other Notes DB using the Domino browser because of some of the functions that work better from within (SendTo, etc.). Do you have any ideas?
Notes implements a URL format to support HTML links to Notes documents. The format of a Notes URL is similar to a Domino URL, except that you begin with "Notes" instead of "http" (e.g., Notes://apupmailsrv/mail/aguirard.nsf/($Inbox). You can also use replica IDs, view UNID and document UNID instead of paths and names.
To see the Notes URL for the current window in Notes 6, display the Address field if it is not already displayed (right click the toolbar and tick "Address"). Click the pulldown at the right of the address bar, then click it again. The address field will be filled in with the Notes URL of the current document or view.
The Notes URL works from inside of Notes. To work from a web browser, the "Notes:" URL prefix must be registered with the client's operating system (and the Notes client must be installed there, of course). In more recent versions of Notes, registration of the URL prefix is done automatically on install. With older versions, you will need to do this yourself. The following registry entries need to be set:
HKEY_CLASSES_ROOT\notes: (Default) = URL:Notes Protocol HKEY_CLASSES_ROOT\notes\DefaultIcon: (Default) = %notesdir%\notes.exe HKEY_CLASSES_ROOT\notes\ShellOpen\Command: (Default) = %notesdir%\notes.exe %1
Dig Deeper on Web Development for Lotus Notes Domino
Have a question for an expert?
Please add a title for your question
Get answers from a TechTarget expert on whatever's puzzling you.