Q
Is there a LotusScript function to calculate age given a date of birth?
Looking for something else?
Is there any function to calculate the age by the given date of birth. Is there a date interval, dateadd, datesub etc. function in LotusScript as there is in VB Script?
In LotusScript there are two ways to represent dates -- using a date/time variant or a NotesDateTime object. Both types support a "subtract" operation. With the date/time variant, this is the "-" operator, such as:
daysOld = doc.DateOfBirth(0) - Today ' returns their age in days.

Download this free guide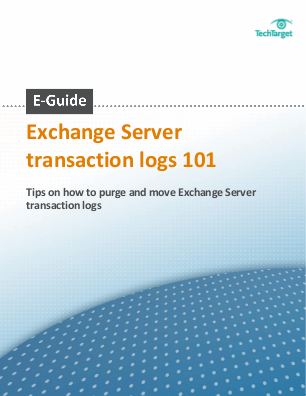 Download this strategic guide on moving Exchange Server transaction logs
Brush up on how log files have changed in Exchange to protect your setup against disaster, discover how to effectively purge transaction logs, and learn how to free up some of the disk space transaction logs have taken up on your drive.
By submitting your email address, you agree to receive emails regarding relevant topic offers from TechTarget and its partners. You can withdraw your consent at any time. Contact TechTarget at 275 Grove Street, Newton, MA.
You also agree that your personal information may be transferred and processed in the United States, and that you have read and agree to the Terms of Use and the Privacy Policy.

With NotesDateTime objects you can use TimeDifferenceDouble or TimeDifference.
However, knowing the person's age in days doesn't automatically tell you their age in years, because not all years have the same number of days. The following function determines the age by checking whether their birthday has already occurred this year. The function comes from the Notes Design Library which you can download from LDD Sandbox.

Function age(dob, asofdate)
 ' the arguments are assumed to be of type LotusScript date/time.
 Dim dyr%, dmo%
 dyr = Year(asofdate) - Year(dob)
 dmo = Month(asofdate) - Month(dob)
 If dmo < 0 Or (dmo = 0 And Day(asofdate) < Day(dob)) Then ' their birthday 
has not yet arrived this year.
 age = dyr - 1
 Else
 age = dyr
 End If
End Function 
Dig Deeper on LotusScript
Have a question for an expert?
Please add a title for your question
Get answers from a TechTarget expert on whatever's puzzling you.