Q
Move a response doc in a hierarchical view
Looking for something else?
I'm looking for a way to in an hierarchical view, have a "Move" button to move a response doc (and all its children with out loosing its structure)to a different father doc.

Download this free guide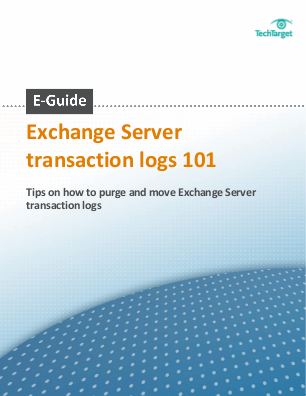 Download this strategic guide on moving Exchange Server transaction logs
Brush up on how log files have changed in Exchange to protect your setup against disaster, discover how to effectively purge transaction logs, and learn how to free up some of the disk space transaction logs have taken up on your drive.
By submitting your email address, you agree to receive emails regarding relevant topic offers from TechTarget and its partners. You can withdraw your consent at any time. Contact TechTarget at 275 Grove Street, Newton, MA.
You also agree that your personal information may be transferred and processed in the United States, and that you have read and agree to the Terms of Use and the Privacy Policy.

Response documents maintain their relationship with their parent document via the $Ref field. This field contains the DocumentUniqueID of the document to whom this document is a response. Using LotusScript, you can manipulate the parent-children relationships of documents easily.. here is a quick example that will take a response document that is a response to ParentDoc1 and make it instead a response to ParentDoc2. You can make it is complex as you need just as long as you maintain the $Ref field, everything will be fine.
(I have left out some declarations for the sake of brevity, such as thisDB definition, the name should be clear enough)
Dim OldParent, NewParent, ChildDoc as NotesDocument
Dim ParentColl, RespColl as NotesDocumentCollection
Set ParentColl = thisDB.UnProcessedDocuments
Set OldParent = ParentColl.GetFirstDocument
Set NewParent = myView.GetDocumentByKey("WhateverKeyFindsNewParent")
Set RespColl = OldParent.Responses
If RespColl.Count > 0 then
Call RespColl.StampAll("$Ref",NewParent.UniversalID(0))
End If
Dig Deeper on Lotus Notes Domino Administration Tools
Have a question for an expert?
Please add a title for your question
Get answers from a TechTarget expert on whatever's puzzling you.