Q
Move fields to different parts of a form
While designing a form in Domino Designer 5, I need to shift/relocate/move a few fields to different parts on the form. How do I achieve that by using keyboard, mouse, menu commands or toolbar?
That depends. If the fields are in a layout region, you can just drag them around within the same layout region using the mouse. You may need to adjust their order relative to the other fields using the "Bring to front" or "Send to back" functions.

Download this free guide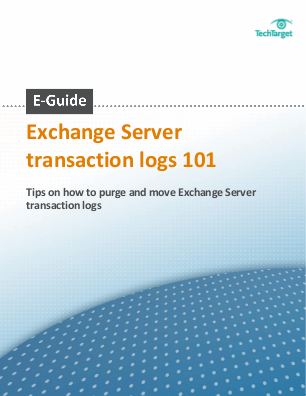 Download this strategic guide on moving Exchange Server transaction logs
Brush up on how log files have changed in Exchange to protect your setup against disaster, discover how to effectively purge transaction logs, and learn how to free up some of the disk space transaction logs have taken up on your drive.
By submitting your email address, you agree to receive emails regarding relevant topic offers from TechTarget and its partners. You can withdraw your consent at any time. Contact TechTarget at 275 Grove Street, Newton, MA.
You also agree that your personal information may be transferred and processed in the United States, and that you have read and agree to the Terms of Use and the Privacy Policy.

If the fields are not in a layout region, you move them the same way you would move text while editing a Notes document. Highlight the fields in question by dragging the mouse over them, or position the cursor before the first one and use Shift + Arrow to highlight the desired region. Cut the selection to the clipboard (Ctrl + C, or menu Edit ->Copy, or right-click and select Cut). Position the cursor where you want to insert the fields. Paste (Ctrl + V, menu Edit -> Paste, or right-click and select Paste).
Things get a little more complicated if the fields are in a table and are being pasted into an existing table. When you paste, you are asked "Do you wish to paste saved table across the cells of this existing table?" If you answer "Yes," each cell of what you paste is inserted into a separate cell of the table you paste into -- if necessary, the destination table is expanded to accommodate them. If you answer "No," the clipboard contents are inserted as a "nested" table inside the destination table. If you're not clear what that means, try it out. You can always opt not to save if it does something that's hard to reverse.
If some fields are in one table, and some are in a different table or are not in a table, you may need to do multiple cut/paste operations. You'll find it impossible to select some information from a table and some information from outside the table without selecting the whole table.
It's a little complex, but it's not hard to learn -- Domino developers manage this with no trouble. Just experiment and see how it behaves.
Do you have comments on this Ask the Expert question and response? Let us know.

Dig Deeper on Lotus Domino Designer
Have a question for an expert?
Please add a title for your question
Get answers from a TechTarget expert on whatever's puzzling you.