Q
The R5 equivalent to !@ThisValue in R6
I'm not able to find any function like !@ThisValue in R5, as this formula is available only in R6. Could you suggest to me any way to achieve this in R5?
@ThisValue is not available in R5. You must just use the field name in the formula, e.g. instead of @If(@ThisValue = ""; @Failure("You must enter a document title."); @Success), you would write @If(Subject = ""; @Failure("You must enter a document title."); @Success).

Download this free guide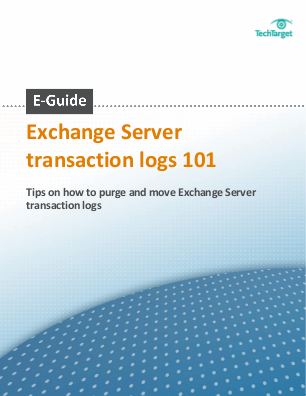 Download this strategic guide on moving Exchange Server transaction logs
Brush up on how log files have changed in Exchange to protect your setup against disaster, discover how to effectively purge transaction logs, and learn how to free up some of the disk space transaction logs have taken up on your drive.
By submitting your email address, you agree to receive emails regarding relevant topic offers from TechTarget and its partners. You can withdraw your consent at any time. Contact TechTarget at 275 Grove Street, Newton, MA.
You also agree that your personal information may be transferred and processed in the United States, and that you have read and agree to the Terms of Use and the Privacy Policy.

The nice thing about @ThisValue and @ThisName is that you can write generic formulas that can be used in different fields without modification. This is especially handy where you have a large number of similar fields -– it makes it much easier to make sure that all the fields' formulas are referring to themselves.
For instance, you have fields named xxx1, xxx2, xxx3, etc. in the first column of a table; yyy1, yyy2, yyy3, etc. in the second column; and so on.
Another option in a case like that is to do your input translation or validation using LotusScript in the document's Querysave event. If there are a large number of fields with similar names and the same validation rules, you can use a For loop to iterate through all the table rows.
Set doc = Source.Document
For i = 1 to 15
 Xxx = Fulltrim(doc.GetItemValue
("xxx" & i)(0))
 Yyy = doc. GetItemValue("yyy" & i)(0)
 If xxx <> "" And yyy = "" Then
  Msgbox "You must enter a
 value…
  Continue = False
 End If
Next

Do you have comments on this Ask the Expert question and response? Let us know.

Dig Deeper on Lotus Notes Domino Formula Language
Have a question for an expert?
Please add a title for your question
Get answers from a TechTarget expert on whatever's puzzling you.