Q
When the number of threads reaches 200, the server hangs?
Looking for something else?

Download this free guide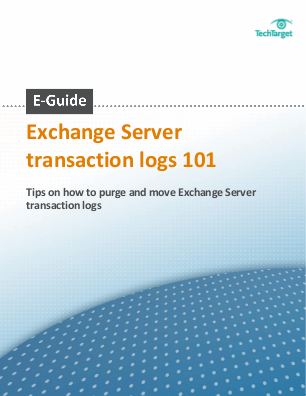 Download this strategic guide on moving Exchange Server transaction logs
Brush up on how log files have changed in Exchange to protect your setup against disaster, discover how to effectively purge transaction logs, and learn how to free up some of the disk space transaction logs have taken up on your drive.
By submitting your email address, you agree to receive emails regarding relevant topic offers from TechTarget and its partners. You can withdraw your consent at any time. Contact TechTarget at 275 Grove Street, Newton, MA.
You also agree that your personal information may be transferred and processed in the United States, and that you have read and agree to the Terms of Use and the Privacy Policy.

We are facing a peculiar problem with our server. When the number of threads reaches a number of 200 on the server, the server hangs and when we try to restart the Web server, we get the following message on the console: HTTP Waiting For thread : Thread : [15a] State : [Worker processing request] Other Info : Get /abc/def/......../?open We have agents running on 'web query open' and these fetch data from Oracle. we are using lxodbc to connect. Your suggestion would be greatly helpful.
Congratulations! You have run square into our biggest headache. You will find that these agents are not exiting cleanly or are waiting for information or the odbc queue. You'll need to figure out the cause (either not terminating cleanly or still waiting for data) and write code to work around this and free up the thread. Don't be fooled. Just because your query has come back with the data does not mean that the odbc queue has released the process and thread. Also beware of embedded images that are using Domino's conversion to gif or jpeg. Many times the conversion program does not ever complete keeping the thread open even though the image appears to have rendered. Sometimes this image problem will cause the threads to hang and you may be thinking, is it my Web query save? Just a thought.

Dig Deeper on Domino Resources - Part 7
Have a question for an expert?
Please add a title for your question
Get answers from a TechTarget expert on whatever's puzzling you.