XMPP (Extensible Messaging and Presence Protocol) definition
XMPP (Extensible Messaging and Presence Protocol) is a protocol based on Extensible Markup Language (XML) and intended for instant messaging (IM) and online presence detection. It functions between or among servers, and facilitates near-real-time operation. The protocol may eventually allow Internet users to send instant messages to anyone else on the Internet, regardless of differences in operating systems and browsers.
Download this strategic guide on moving Exchange Server transaction logs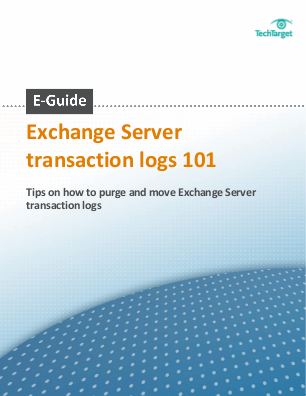 Brush up on how log files have changed in Exchange to protect your setup against disaster, discover how to effectively purge transaction logs, and learn how to free up some of the disk space transaction logs have taken up on your drive.
XMPP is sometimes called the Jabber protocol, but this is a technical misnomer. Jabber, an IM application similar to ICQ (I Seek You) and others, is based on XMPP, but there are many applications besides Jabber that are supported by XMPP. The IEEE XMPP working group, a consortium of engineers and programmers, is adapting XMPP for use as an Internet Engineering Task Force (IETF) technology. In addition, the Messaging and Presence Interoperability Consortium (MPIC) is considering XMPP as an important interoperability technology. Eventually, XMPP is expected to support IM applications with authentication, access control, a high measure of privacy, hop-by-hop encryption, end-to-end encryption, and compatibility with other protocols.
IBM and Microsoft are working on a similar standard called SIP for Instant Messaging and Presence Leveraging Extensions (SIMPLE) based on Session Initiation Protocol (SIP).
Continue Reading About XMPP (Extensible Messaging and Presence Protocol)
Dig Deeper on Lotus Domino Server 6