What's ahead for Lotus certification?
Even though the CLP acronym has gone away, the streamlined Lotus certification program has received positive reviews. However, more changes are in store.
Last summer, IBM Lotus turned the world upside down for Domino developers by streamlining its certification program, scrapping the venerated "Lotus Certified Professional" title in favor of the more corporate "IBM Certified Software Professional."

Download this free guide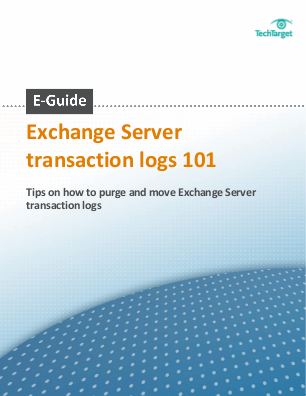 Download this strategic guide on moving Exchange Server transaction logs
Brush up on how log files have changed in Exchange to protect your setup against disaster, discover how to effectively purge transaction logs, and learn how to free up some of the disk space transaction logs have taken up on your drive.
By submitting your email address, you agree to receive emails regarding relevant topic offers from TechTarget and its partners. You can withdraw your consent at any time. Contact TechTarget at 275 Grove Street, Newton, MA.
You also agree that your personal information may be transferred and processed in the United States, and that you have read and agree to the Terms of Use and the Privacy Policy.

The idea, according to IBM, was to make it easier for people to gain accreditation in multiple IBM technologies. However, there was considerable consternation among Lotus professionals at the time, many of whom believed IBM was diluting the value of a Lotus-specific certification. Today, however, the Lotus community has adapted to changes and is poised for more as IBM continues to enhance the program.

"We wanted to make it easier for customers to understand how the certifications related to each other," said Barbara Bowen, the worldwide certification program manager for Lotus. "We had people that were certified in one area, like WebSphere, who wanted to become certified in another, like Lotus. But our certification programs were not similar enough for people to know where they stood."

"The name change has been fairly indifferent [in terms of impact]," said Howard Greenberg, co-owner of The Learning Continuum Company, a Lotus training and exam preparation firm in Boca Raton, Fla. "The only bad thing was the loss of the CLP initials, which have been around for awhile and were revered by a lot of people. But"

Randy Stone, president of the St. Louis Lotus Technologies User Group, at first thought that it was another nail in the coffin of Lotus as a recognized brand. "But my second reaction has been that standardization makes sense, given that, after all these years, Lotus really is a division of IBM. And they did it so that the old titles map pretty clearly to the new ones," Stone said.

Changes ahead for 2005

So what's next on the Lotus certification agenda?

According to Bowen, Lotus plans to diversify its certification program by creating new exams to keep pace with the evolving Lotus product line. First on the lineup are two Lotus Workplace certifications -- #820 Implementing and Administering IBM Lotus Workplace Messaging 2 Exam and #830 Developing Websites Using IBM Lotus Workplace Web Content Management 2 with Java Exam -- which debut in August. Additional Workplace exams will be added down the road.

"We're going to be looking at how [Workplace] is used in the market and what skills are needed, and then we'll flesh out the program," Bowen said. "We'll be looking at the collaboration products that are part of Lotus Workplace, such as Lotus Workplace Team Collaboration and Lotus Workplace Documents."

And, of course, Domino professionals should expect to see exams for Notes and Domino 7 coming out in the future, though Lotus has yet to provide an exact release timeframe.

As the Domino product line expands, so too will the certification program, Bowen said, noting how Lotus has vastly expanded the certification portfolio over the years as new products like Sametime and Workplace arrived.

Developers look to expand skills

Lotus' move to diversify its certifications mirrors the developer community's interest in broadening their own skill sets.

Bowen said that, besides the Workplace exam, she has seen Domino professionals show an increasing interest in non-traditional certification topics like Java and WebSphere.

Greenberg, too, has seen a rise in interest among students in studying topics such as J2EE in addition to Domino. "There's a lot of interest in Java, servlets and Java server pages, as well as WebSphere, but there's also still plenty of interest in core Notes, Domino and LotusScript courses."

To help developers chart their career development paths, Lotus has added a set of "roadmaps" on its education site, at www.lotus.com/training, which explain what skills are needed in order to move up the certification ladder. To be a Certified Advanced Application Developer, a developer would need to know how to use Java and Javascript in Domino applications.

The value of certification for Domino job-seekers is arguably at an all-time high because of the fragile job market. At the same time, however, according to Greenberg, the number of Domino professionals paying to take courses to prepare them for the tests isn't as great as they were during the height of the tech boom in the late 1990s, when corporate training budgets were flush.

"It's not as busy as it was in the R5 or R4 days," noted Greenberg, " but we do see a lot of people who want to broaden their skills. It's a great way to enhance your resume."

Bowen agreed. "Any certification study that's ever been done shows that people who have more certifications do better in bad markets. People understand they need to make themselves more marketable."

Sue Hildreth is a contributing writer and editor based in Waltham, Mass. She can be reached at Sue.Hildreth@comcast.net.
Dig Deeper on Domino Resources - Part 4