IBM buys e-forms firm PureEdge
IBM's acquisition of e-forms maker PureEdge Solutions brings PureEdge's front-end customer and business technology into even closer alignment with Workplace, WebSphere and Domino.
Looking for something else?
IBM has acquired IBM Business Partner PureEdge Solutions Inc., a maker of electronic forms. The move brings PureEdge's front-end customer and business technology into even closer alignment with Workplace, WebSphere and Domino.

Download this free guide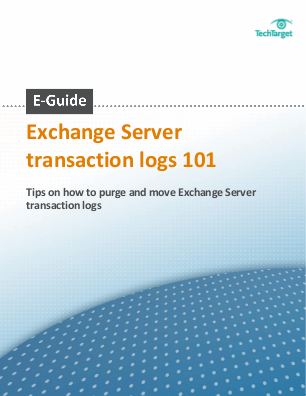 Download this strategic guide on moving Exchange Server transaction logs
Brush up on how log files have changed in Exchange to protect your setup against disaster, discover how to effectively purge transaction logs, and learn how to free up some of the disk space transaction logs have taken up on your drive.
By submitting your email address, you agree to receive emails regarding relevant topic offers from TechTarget and its partners. You can withdraw your consent at any time. Contact TechTarget at 275 Grove Street, Newton, MA.
You also agree that your personal information may be transferred and processed in the United States, and that you have read and agree to the Terms of Use and the Privacy Policy.

PureEdge's open-standard, XML-based e-forms present enterprise back-end data and applications to end users or customers as templates. Ken Bisconti, vice president of Workplace products, said that, in particular, industries such as health care and banking benefit from advanced e-form technology, which can provide digital signature support or encapsulate and regulate file attachments.
"PureEdge has been very successful in providing high value to key industries," Bisconti said during a Web-based press conference yesterday. "They have been able to build a very strong customer reference set and set themselves as leaders in the electronic forms business."
Along with delivering industry solutions to the marketplace, IBM officials said they view the acquisition as a way to incorporate PureEdge technology vertically through the company, rather than as applications built atop IBM technology. "We thought it needs to be implemented across the product line," said Ambuj Goyal, who yesterday became the general manager of IBM's Information Management division.
Both parties stand to benefit from PureEdge's active support for XForms. These are XML-enabled Web forms are regarded as the next generation of e-forms, and they boost interoperability by making data capturing and processing available on any platform or operating system.
"Almost every major supplier has announced full support, or at least support for the data model, [of XForms]" said PureEdge CEO Mark Upson. "It's very much becoming and will be the standard." The only main supplier that's holding out? Microsoft," Upson said.
PureEdge is a privately-held company based in Victoria, British Columbia. Terms of the deal with IBM were not disclosed. Upson will stay on with IBM once the acquisition is completed.
Dig Deeper on Domino Resources