Quick Takes: K-station shipping
Looking for something else?
K-Station now available
Lotus's K-Station, a knowledge portal designed to provide end users a single point of access to information, is now available. The company said it is designed with a combination of advanced Lotus portal technologies, toolsand services with core collaborative tools like Sametime and QuickPlace, Lotus K-station brings new levels of collaboration and functionality to end users. Lotus K-station is the first product to be delivered from the Lotus project code-named Raven. Although Lotus K-station can stand alone as a knowledge management solution, it will be integrated with other services and offerings, including the Lotus Discovery Server, once it becomes available.

Download this free guide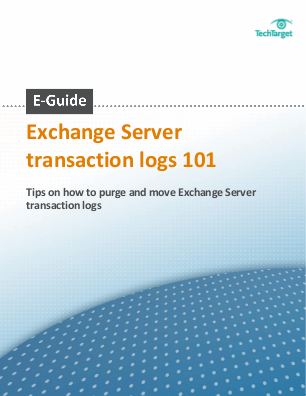 Download this strategic guide on moving Exchange Server transaction logs
Brush up on how log files have changed in Exchange to protect your setup against disaster, discover how to effectively purge transaction logs, and learn how to free up some of the disk space transaction logs have taken up on your drive.
By submitting your email address, you agree to receive emails regarding relevant topic offers from TechTarget and its partners. You can withdraw your consent at any time. Contact TechTarget at 275 Grove Street, Newton, MA.
You also agree that your personal information may be transferred and processed in the United States, and that you have read and agree to the Terms of Use and the Privacy Policy.

www.lotus.com

Knowledge management portal ready

Synergistics, an enterprise knowledge solutions company, has released its latest version of Prevail Knowledge Manager. It is a Lotus Notes, Domino-based knowledge management portal designed to help companies quickly find the best experts, best practices and best information they need to determine single best answers to critical business questions. The web-enabled Prevail Knowledge Manager gathers, organizes and integrates information from both internal and external sources and makes it available to all users through a single point of access. It is designed to meet knowledge needs by lines of business like marketing, sales, human resources and product management. The company, in Cincinnati, Ohio, said the manager, designed and optimized for the Domino platform, is far easier to use than other knowledge management solutions on the market today.

www.syner.com

Collaborative development environment launched

IT FACTORY Inc., a collaborative e-business solutions provider in Cambridge, Mass., has launched its latest version of ITF ASP Release, a collaborative development environment for Lotus Notes/Domino. It is designed to build, customize and maintain collaborative applications in a hosted application environment. IT FACTORY has already received endorsement of its ASP Release with the signing of partnerships with Internoded in the U.S. and Vodafone-daughter company Andate in Germany. More specifically, ITF ASP Release includes an ASP administration module, which enables ASPs to define, create and manage customer instances, and provides a friendly self-service interface for users to configure and manage their rented applications. Any application built upon ITF's framework can be assembled, configured, and upgraded automatically based on user choices and the ASP's rules, greatly reducing ASP costs. It also provides dynamic links into Lotus' Host Management System 2.0,, which provides advanced user management, usage accounting, and domain and server management.

www.itfactory.com

Standards adopted by Extended Systems

Extended Systems' XTNDConnect Server data synchronization and management solution now supports industry-standard Internet e-mail, calendar and directory access protocols. Extended Systems is a provider of mobile data management and wireless connectivity products in Boise, Idaho. With these enhancements, XTNDConnect Server is the only server synchronization solution to provide broad support for groupware, database and Internet applications and mobile devices. With support for these Internet standards, XTNDConnect Server allows information technology administrators to have increased flexibility to configure a wider variety of server applications and to authenticate users through the Internet-based protocols. XTNDConnect Server already supports leading groupware and database applications such as Microsoft Exchange, Lotus Domino and ODBC-compliant database servers. www.extendedsystems.com

IMobile Suite updated

Synchrologic, a company that synchronizes Business Data Anywhere in Santa Clara, Calif, has added new features to its iMobile Suite product that will let business professionals synchronize data between their Palm devices and Lotus Notes or Microsoft Exchange servers. With this latest upgrade, iMobile Suite delivers on Synchrologic's vision of offering a total software infrastructure solution for managing enterprise Palm deployments, the company said. iMobile Suite's RealSync Server is being upgraded to enable users to synchronize their e-mail and personal information management data, including address book, calendar, memos, and to-do lists, between their Palm devices and their company's Microsoft Exchange or Lotus Notes servers, so they can spend less time with duplicate data entry of information. Unlike other Exchange and Notes sync solutions, iMobile Suite allows system administrators to set default configurations for synchronization behavior and maintain very granular control over how users can change these defaults for their sessions. Additional administrative capabilities include extensive logging and troubleshooting tools, and powerful installation and configuration wizards.

www.synchrologic.com To include your announcement in Quick Takes, e-mail Beth Quimby, news editor
Dig Deeper on Domino Resources