Saying thanks to Domino staff can be easy
Looking for something else?
Those who have helped make their company a success this year - those unsung Notes and Domino administrators and developers - have made it through another year.

Download this free guide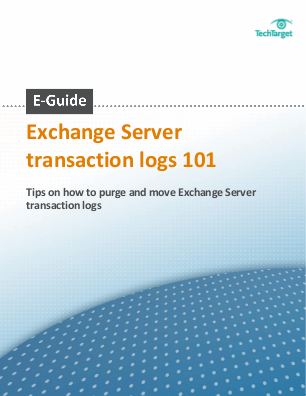 Download this strategic guide on moving Exchange Server transaction logs
Brush up on how log files have changed in Exchange to protect your setup against disaster, discover how to effectively purge transaction logs, and learn how to free up some of the disk space transaction logs have taken up on your drive.
By submitting your email address, you agree to receive emails regarding relevant topic offers from TechTarget and its partners. You can withdraw your consent at any time. Contact TechTarget at 275 Grove Street, Newton, MA.
You also agree that your personal information may be transferred and processed in the United States, and that you have read and agree to the Terms of Use and the Privacy Policy.

They probably made their companies look good to boot, what with migration, upgrades, a company move and such.

The question is have their companies paid their annual holiday thanks? If not, it is never too late. Domino administrators and developers were asked for their holiday wish lists. Their answers were perfectly appropriate to go inside those bonus envelopes to show them how much they are appreciated.

Here is what is on their lists:
A long lunch, paid for by the boss, during an especially busy week.
The ability to work on a production server during business hours.
Easy Design Scanner by Easy Access software.
A new workstation with lots of bells and whistles. PC goodies are always a favorite.
Project requirements that don't change every other day.
A real development environment that consists of more than two servers.
A new laptop for personal use for the employee who is always on call, always ready to help.
Moving the Notes Client to R5 across your organization so we can use the R5 designer and R5 functionality.
New servers. Techies love new hardware.
Gigabit connections to the Internet.
A VPN solution so people can work from home on DSL.
A week (chosen by the boss) where one's pager can be left unanswered.
"Lotus Notes and Domino 5 Development Unleashed" by Debbie Lynd/SteveKern.
"Domino 5 Web Programming with XML, Java, and JavaScript" by Randall A. Tamura.
If that is not enough, holiday gift ideas are also available online for those truly stumped about what to do:
Top Ten Holiday Ideas
PC Magazine's Dvorak offers these suggestions on what to give the IT employee for the holiday. PCMagazine
Incentives keep elves jolly / How to help IT workers cope with holiday stress
EWeek's article is a good survival guide on how to cope with holiday e-tailing insanity.www.EWEEK
Amazon.com gift certificates
You can usually find what you want here. Amazon
Yahoo!'s Last-Minute Shopping Guide
A super list of quality merchants capable of shipping gifts as late as 12/23 � and we won't ask WHY did you wait so long?Yahoo
Gift Certificates.com
If you must shop at the last minute, Yahoo will send an *e-mailable gift certificate* as late as 8:00 p.m. (EST) on Dec. 24th. (Not suggested for newlyweds)e-mailgiftYahoo
Dig Deeper on Domino Resources - Part 7