Quick Takes: Are your tools in order?
Looking for something else?
Sussex Systems creates Web software tool for Lotus Domino
Sussex Systems, a software services and consulting company in Gaithersburg, Md., has released its Q2-2001 Advanced Examples, a Web software development and training tool for Lotus Notes and Domino. It includes a new application template, Extreme Sametime, and extensive documentation on the integration of Lotus Domino and Lotus Sametime.

Download this free guide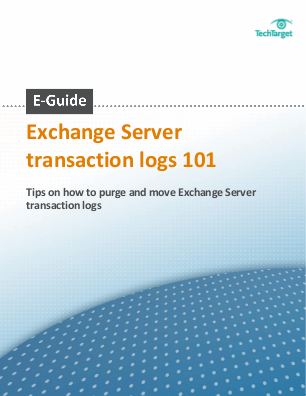 Download this strategic guide on moving Exchange Server transaction logs
Brush up on how log files have changed in Exchange to protect your setup against disaster, discover how to effectively purge transaction logs, and learn how to free up some of the disk space transaction logs have taken up on your drive.
By submitting your email address, you agree to receive emails regarding relevant topic offers from TechTarget and its partners. You can withdraw your consent at any time. Contact TechTarget at 275 Grove Street, Newton, MA.
You also agree that your personal information may be transferred and processed in the United States, and that you have read and agree to the Terms of Use and the Privacy Policy.

www.sussex.com
Lotus LearningSpace Content Partner Program set
IBM Mindspan Solutions, Somers, N.Y., has started a new program to give business partners three tools to help them develop and market e-learning content and create new content using the Lotus LearningSpace platform. Called the Lotus LearningSpace Content Partner Program, it is aimed at providing an inexpensive marketing venue, software licensing discounts and in-depth developer support.www.ibm.com/mindspan
BinaryTree.com announces CMT for iNotes
BinaryTree.com, Red Wing, Minn., has released its CMT for iNotes. It allows organizations to migrate their users? data without any end-user Interaction. The server-to-server migration tool migrates the data from the Exchange servers to a single iSeries running Domino.
www.binarytree.com
Stampede names new vice president
Stampede Technologies Inc., a Dayton, Ohio, company that develops accelerator software for Lotus Notes and Domino businesses, has named Denis Clark its new senior vice president of marketing and business development. Clark will be responsible for driving the strategic planning of Stampede's products and partnerships and leading the company into new markets.
www.stampede.com
TOPCALL offers Lotus plus ONE
TOPCALL, a unified communications company in Vienna, Austria, is offering its Lotus plus ONE to companies that want to turn their Lotus messaging and business applications into unified communications. Plus ONE allows customers to integrate any business application, such as SAP or Siebel, with TOPCALL and get the Lotus Notes Link at no charge.
Beth Quimby, news editor
Dig Deeper on Domino Resources - Part 7