Quick Takes: What's new at DevCon 2001
p>Ives Development creates TeamStudio Snapper
Ives Development Inc., Beverly, Mass., has added a new tool to the TeamStudio Design System, TeamStudio Snapper, and released.
Looking for something else?
CASAHL creates business applications package
CASAHL Technology, a leading provider of business integration products in San Ramon, Calif., will offer a software and professional services package to help Lotus Notes developers create business applications. The CASAHL Customer Care Bundle includes the Replic-Action 5.2 with Real-time, two days of on-site consulting, Web training, and one year standard support and maintenance.

Download this free guide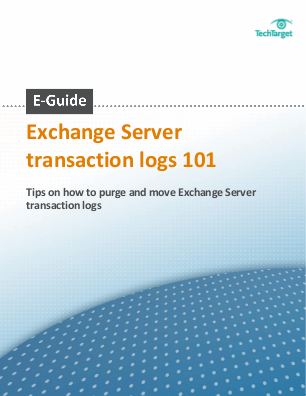 Download this strategic guide on moving Exchange Server transaction logs
Brush up on how log files have changed in Exchange to protect your setup against disaster, discover how to effectively purge transaction logs, and learn how to free up some of the disk space transaction logs have taken up on your drive.
By submitting your email address, you agree to receive emails regarding relevant topic offers from TechTarget and its partners. You can withdraw your consent at any time. Contact TechTarget at 275 Grove Street, Newton, MA.
You also agree that your personal information may be transferred and processed in the United States, and that you have read and agree to the Terms of Use and the Privacy Policy.

www.casahl.com

Celebra buys education division

Celebra Technologies Inc., Phoenix, Ariz., has bought the education division from InfoImage Inc. CelebraTech is an education provider offering Lotus Authorized Education courses for Lotus Notes and Domino as well as its own curriculum for Java, Javascript, XML and other related Internet technologies.

www.infoimage.com

Cybernet launches ProcessSMART

Cybernet Software Systems, San Jose, Calif., has launched its ProcessSMART, a Web-enabled Domino application that allows users to define, implement,and streamline processes for managing and implementing business requests and software projects within an organization. ProcessSMART's Business Request Management system interfaces with its' Software Development Life Cycle Project Management system.

www.cybernet.com

Easy Access Software makes DesignScanner for Lotus Notes

Easy Access Software, Red Bank, N.J., has made its Easy DesignScanner available for Lotus Notes, Version 2.3. This new release includes a new rule set specifically designed for validating Web-based Lotus Domino applications. The Easy DesignScanner for Lotus Notes validates the design of one or more Lotus Notes databases by comparing a databases design construct and code to a set of predefined rules.www.designscanner.com

Ives Development creates TeamStudio Snapper

Ives Development Inc., Beverly, Mass., has added a new tool to the TeamStudio Design System, TeamStudio Snapper, and released Edition 15 and 15 Japanese localized version of the TeamStudio Design System. TeamStudio Snapper, the newest version control tool of the TeamStudio Design System, helps developers keep track of changes to a database via scheduled snapshots and a dynamically maintained undo buffer, the company said. It costs $595. Pricing for TeamStudio tools starts at $545.

www.teamstudio.com Sherpa releases database tool Sherpa Software Group, Pittsburg, Pa., has released Database Attender, its new database management, deployment and reporting tool for Lotus Notes infrastructures. Database Attender provides administrators the ability to control all aspects of their databases, the company said. It allows administrators to configure rules that can restrict and prevent unauthorized or unexpected changes to database configuration or content. www.sherpasoftware.com

Lotus, Sun & Son team on product

Lotus Development Corp., Cambridge, Mass., and Sun & Son, a provider of Lotus Notes/Domino solutions in Santa Fe., N. M., , have launched a joint initiative to provide Lotus' K-station portal customers with automated roll-out support through a new product called K-Master. The new product is designed to augment K-station's ability to deliver information by providing a suite of management tools.

www.lotus.com www.sunandson.com

CONET USA launches Knowledge Director

CONET USA Inc., a Premium Lotus/IBM Business Partner specializing in content and knowledge management solutions on the Lotus Domino platform in Denver, Co., launched a new application, Knowledge Director, a component within the business Web infrastructure system you@web. The system is designed to capture existing disparate data sources and transform them into Web-enabled information, enhancing knowledge management capabilities within the organization.

www.conetusa.com To include your announcement in Quick Takes, e-mail Beth Quimby, news editor
Dig Deeper on Lotus Notes Domino Administration Tools