Quiz # 1 on Knowledge Management
Know-IT-All Quiz # 1 on Knowledge Management
Looking for something else?
TECHNOLOGIES
How to take this quiz:
After reading the question, write down the letter of your answer choice on scrap paper. Check your answers by using the answer key at the end of the quiz.

Download this free guide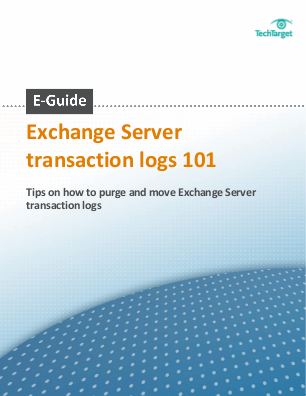 Download this strategic guide on moving Exchange Server transaction logs
Brush up on how log files have changed in Exchange to protect your setup against disaster, discover how to effectively purge transaction logs, and learn how to free up some of the disk space transaction logs have taken up on your drive.
By submitting your email address, you agree to receive emails regarding relevant topic offers from TechTarget and its partners. You can withdraw your consent at any time. Contact TechTarget at 275 Grove Street, Newton, MA.
You also agree that your personal information may be transferred and processed in the United States, and that you have read and agree to the Terms of Use and the Privacy Policy.

1.This will allow users to access their Domino-based mail, calendar, schedule, to-do lists, contact lists, and notebooks from any computer, at any location, as long as they have an Internet connection.

a. .Net
b. J2EE
c. iNotes Web access
d. Domino Off-Line Services
e. Sametime

2. Lotus' K-station portal recently merged with this IBM portal framework.

a. TechTarget
b. OpenView
c. WebSphere
d. Grand Central
e. Knowbot

3. This is the name of a concept in which an enterprise consciously and comprehensively gathers, organizes, shares, and analyzes information in terms of resources, documents, and people skills.

a. epistemology
b. structured query language
c. Lotus gathering
d. knowledge management
e. management information system


SCROLL DOWN FOR ANSWER KEY








ANSWER KEY: 1c; 2c; 3d

Learn more in searchDomino.com's featured topic on Knowledge Management:
http://www.searchDomino.com/featuredTopic/0,290042,sid4_gci762769,00.html
Let us know how you did and suggest a topic for a future quiz! Email searchDomino
Dig Deeper on Domino Resources - Part 5