Top 10 Administrator Tips of 2001
Administrator's, this compilation of searchDomino's Top 10 tips of 2001 is just for you!
Looking for something else?
Top 10 Admin Tips
EDITOR'S NOTE: We rely on your votes to help us to not only determine the monthly prize but also to find out what interests you most. Please take the time to vote on tips. (Ballot stuffers, we know who you are, so please vote fairly!) And remember, Election Day is everyday on searchDomino. But don't let that delay your vote. Send comments and/or ideas to editor@searchDomino.

Download this free guide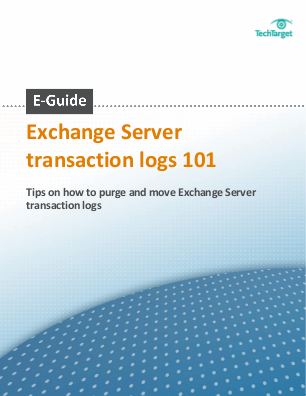 Download this strategic guide on moving Exchange Server transaction logs
Brush up on how log files have changed in Exchange to protect your setup against disaster, discover how to effectively purge transaction logs, and learn how to free up some of the disk space transaction logs have taken up on your drive.
By submitting your email address, you agree to receive emails regarding relevant topic offers from TechTarget and its partners. You can withdraw your consent at any time. Contact TechTarget at 275 Grove Street, Newton, MA.
You also agree that your personal information may be transferred and processed in the United States, and that you have read and agree to the Terms of Use and the Privacy Policy.

Run server utilities on the client
by William Lally
http://searchdomino.techtarget.com/tip/1,289483,sid4_gci540842,00.html
Re-Attach ID files
by Patty Halsey
http://searchdomino.techtarget.com/tip/1,289483,sid4_gci562444,00.html
A Commercial Domino Security Scanner
by Chuck Connell
http://searchdomino.techtarget.com/tip/1,289483,sid4_gci780011,00.html
Troubleshooting Internet e-mail problems
by Marianne Case
http://searchdomino.techtarget.com/tip/1,289483,sid4_gci781972,00.html
Programmatically set "User Preferences" options
by Tom Panucci
http://searchdomino.techtarget.com/tip/1,289483,sid4_gci775630,00.html
How to conduct a security audit
by Chuck Connell
http://searchdomino.techtarget.com/tip/1,289483,sid4_gci784290,00.html
Set field value/type via smart icon
by Janet Rogers
http://searchdomino.techtarget.com/tip/1,289483,sid4_gci765144,00.html
Migrating your (Notes) browser address book into Notes
by Ruth Inman
http://searchdomino.techtarget.com/tip/1,289483,sid4_gci753406,00.html
Rebuilding your bookmarks to match your desktop
by Ginger Solano
http://searchdomino.techtarget.com/tip/1,289483,sid4_gci553450,00.html
Add mail file icon from nab
by Mike Andrews
http://www.searchDomino.com/tip/1,289483,sid4_gci757431,00.html
Dig Deeper on Lotus Notes Domino Administration Tools