Users fear Domino on collision course with WebSphere
Devoted Domino enthusiasts have worried about the fate of their beloved platform for some time. Some fear IBM's WebSphere server will swallow Domino, but hope Lotus debunks those rumors at this year's Lotusphere.
Looking for something else?
The smiles you think you see at Lotusphere next week may actually be grimaces, as devoted Domino admins and programmers worry over the fate of their platform.

Download this free guide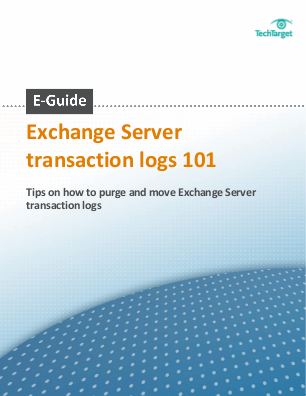 Download this strategic guide on moving Exchange Server transaction logs
Brush up on how log files have changed in Exchange to protect your setup against disaster, discover how to effectively purge transaction logs, and learn how to free up some of the disk space transaction logs have taken up on your drive.
By submitting your email address, you agree to receive emails regarding relevant topic offers from TechTarget and its partners. You can withdraw your consent at any time. Contact TechTarget at 275 Grove Street, Newton, MA.
You also agree that your personal information may be transferred and processed in the United States, and that you have read and agree to the Terms of Use and the Privacy Policy.

Some fear IBM's Lotus Software will make its Domino application and messaging server a mere component of its WebSphere Web application server.

IBM/Lotus has said it will continue integrating Domino with WebSphere in 2002, but the company has yet to make a comprehensive strategy statement about its two flagship software platforms, whose functions often seem to overlap. The only scheduled breakout session addressing WebSphere at Lotusphere 2002 in Orlando, Fla. will be an overview on making Domino and WebSphere work together.

"Companies in the [Lotus] business partner channel are going to have to educate themselves fairly thoroughly around the WebSphere platform," said Meta Group analyst Matt Cain. "Those who do not might face some difficulty."

Some admins and programmers suspect IBM/Lotus will do away with Notes/Domino altogether.

"There's a lot of concern in the market about what IBM's intent is," said Notes/Domino specialist Scott Wenzel. "There are some people who are certain the Domino name will vanish into WebSphere soon, and permanently."

IBM admits that it wants customers to view Domino applications as value-adds that can run smoothly with WebSphere's J2EE (Java) platform.

"You're going to be hearing more messages from us that [with WebSphere] we're J2EE players," said Art Fontaine, senior marketing manager for advanced collaboration at IBM/Lotus. "And one way we're adding value to WebSphere is by integrating Domino's collaborative tools, like Sametime and QuickPlace, into the platform."

Meta Group's Cain had hoped IBM/Lotus would articulate its plans for Domino and WebSphere integration at Lotusphere.

"I'd like to see them elaborate on those plans, and tell users just what this will mean to them," Cain said.

Cain said he wants to know exactly what changes IBM/Lotus will make to Domino and WebSphere, and which current Domino applications will run on the new infrastructure.

IBM/Lotus may continue to make incremental changes to Domino and WebSphere as it did last year before folding Lotus' knowledge management portal, K-station, into WebSphere.

However, the company may be afraid of riling admins and programmers by revealing too many integration details, Wenzel said.

"IBM has been introducing WebSphere into the Domino world in stealth mode, without much fanfare," Wenzel said. "Problem is, that makes some people think IBM is going to pull a fast one, and Domino will simply become an add-in to WebSphere."

Fontaine said IBM/Lotus has no intention of killing off the Notes/Domino platform.

"We will continue to invest in Notes/Domino, for those who want to continue to use those classic applications," Fontaine said.

Users though insist only details will allay their fear of a future without Domino.

"Otherwise," Wenzel said, "people are going to assume the worst, and in a lot of places, that's happening already."

Mark Baard is a contributing writer based in Milton, Mass.

FOR MORE INFORMATION:

CLICK for searchDomino's Featured Topic on WebSphere and Domino

CLICK for searchDomino's Best Web Links on WebSphere

CLICK to send your questions on WebSphere to searchDomino's expert Steve Gerhardt
Dig Deeper on Domino Resources - Part 7