Lotusphere 2002: Giant leaps and baby steps to Rnext
Rnext has a new name and a shipping timetable, but will it soon have a place in the majority of Domino organizations? It seems to be the main question facing attendees at Lotusphere 2002.
Looking for something else?
ORLANDO, Fla. -- There are two questions on the tip of nearly every tongue here at Lotusphere 2002: Should I migrate? And, if so, when?
Now that Lotus has officially named Rnext "IBM Lotus Notes and Domino 6" and announced the third quarter of this year as a tentative shipping date, IT shops across the world are trying to decide when to make the move. In some cases, that might require nudging their bosses.

Download this free guide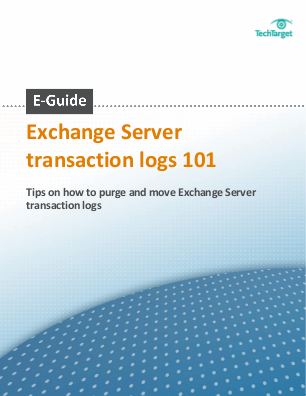 Download this strategic guide on moving Exchange Server transaction logs
Brush up on how log files have changed in Exchange to protect your setup against disaster, discover how to effectively purge transaction logs, and learn how to free up some of the disk space transaction logs have taken up on your drive.
By submitting your email address, you agree to receive emails regarding relevant topic offers from TechTarget and its partners. You can withdraw your consent at any time. Contact TechTarget at 275 Grove Street, Newton, MA.
You also agree that your personal information may be transferred and processed in the United States, and that you have read and agree to the Terms of Use and the Privacy Policy.

Hundreds of attendees are packing the standing room-only overview sessions focusing on upgrades to the Notes client and Domino server.

One of those vying for a seat was Tim Whalen, an Omaha, Neb.-based Notes administrator for the National Park Service. Whalen said he hopes to upgrade some of his 27,000 end users "as soon as we can," and likes what he sees on both the client and admin side.

"The calendaring is better, the admin service is better," he said.

Whalen, who is looking to migrate his users off of cc:Mail, hopes to return home with enough information to win management support for a quick migration to Notes 6.

Better and simpler

Lotus is arming Whalen and other admins with improved transaction logging, clustering and network compression in Notes and Domino 6. The release will also boast simpler policy-based management for creating user roles and remote management for configuring and distributing client upgrades. Support for new security standards and tighter integration with DB2, WebSphere and Tivoli software are featured, as well.

Eager to take advantage of the new programming features is developer Fabien Mancino of PricewaterhouseCoopers in Luxembourg. While he's been pleased with the development capabilities in R5 and WebSphere, he's looking forward to added support for J2EE and other Web development features.

For some, user interface concerns take center stage. Scott Johnson, an application developer and administrator for Notes and Domino at Highsmith, Inc. in Fort Atkinson, Wisc, is moving about two dozen users to a new messaging system. Lotus is competing with Microsoft Exchange for Johnson's business. R6 could tip the scales.

"There were some user interface issues mostly [in R5]. R6 seems like it has a lot of potential. The interface is more user-friendly," said Johnson.

Too much too soon?

The expected release of IBM Lotus Notes and Domino 6 later this year will come three years after the last major software update. That's still too soon for some.

"I think it's a fast jump from [R]5," said Jackie Jozwiak, the IT director at Strategic Marketing Corp. in Bala Cynwyd, Penn. "I don't think there's a need for a new version number for basic enhancements," she said.

Jozwiak's company, which has 300 end users, was recently acquired by a Microsoft shop. Her job now is to convince her bosses not to defect to Redmond.

"We're fighting to keep Notes and Domino. Lotus has not done a good job marketing its groupware to the business units out there. Microsoft has done a phenomenal job in marketing," she said. "Talk to a CEO, CFO or CTO about Sametime or QuickPlace. We know what it does, but they don't. They associate that functionality with the companies that market the best."

In 30 days Lotus will make a pre-release beta version of the new code available to select customers. If their final trials go well, Lotus anticipates shipping the final version some time in Q3.

Darren Gudrian, a Domino systems administrator for Cigna in Bloomfield, Conn., said he wonders if that timetable will coincide with his company's operating system plans. He's in the midst of moving some of his 5,000 end users to the Windows XP desktop and has heard from Lotus that the Rnext client will be its only version to offer XP support.

"We're a little concerned with [Notes 6] not being available until Q3 since we have XP projects already underway," he said. "But I'm encouraged by the fact that they don't want to release Rnext until premiere customers test it."

R-not

In fact, it's the rare user here who isn't at least intrigued by the possibility of the next release.

"Rnext is not on our radar," said Chris St. John, project manager at Cabot Corp. in Billerica, Mass. His 4,500 end users are on R5, which he calls a "stable environment." St. John has more humble goals for his Lotusphere experience.

"I just want to reaffirm that Domino is still going to be around," he said.

Site Editor Joyce Chutchian contributed to this report.

FOR MORE INFORMATION:

CLICK for searchDomino's Best Web Links on Rnext

CLICK to ask your Rnext questions to our expert, Michael Lazar

CLICK to: Read a transcript from the searchDomino chat Get the Benefits of What's New With Languages in Rnext
Dig Deeper on Lotus Notes Domino Administration Tools