Domino 6 may include JSP support after all
Support for Java Server Pages (JSPs) may turn up in the final release of Domino 6 after all. One source at Lotus told searchDomino that IBM has not decided whether to use a version of IBM's WebSphere application server or its own Garnet JSP engine. At Lotusphere 2002, Lotus announced it was cutting Garnet even though it had been well received by the Domino developer community.
Looking for something else?
IBM's Lotus Software division may have been testing the market when it announced last month that it was yanking its Java Server Pages (JSP) engine, known as Garnet, from the upcoming finished version of Domino 6. Some users and analysts now think the company hasn't actually decided what, if any, Java development environment it will include in the final release, due later this year.

Download this free guide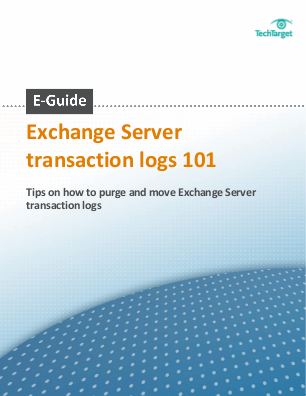 Download this strategic guide on moving Exchange Server transaction logs
Brush up on how log files have changed in Exchange to protect your setup against disaster, discover how to effectively purge transaction logs, and learn how to free up some of the disk space transaction logs have taken up on your drive.
By submitting your email address, you agree to receive emails regarding relevant topic offers from TechTarget and its partners. You can withdraw your consent at any time. Contact TechTarget at 275 Grove Street, Newton, MA.
You also agree that your personal information may be transferred and processed in the United States, and that you have read and agree to the Terms of Use and the Privacy Policy.

A Lotus official, who requested anonymity, told searchDomino "IBM hasn't decided what [Java support] is going to be put into Domino 6."
Beta versions of Domino 6, known as Rnext prior to Lotusphere, included native support for JSPs using Lotus' Garnet technology. At Lotusphere 2002 last month, Lotus announced that it would instead use an embedded version of parent IBM's WebSphere application server, saying Garnet would be non-standard and obsolete by the time the final version of Domino 6 is released.
Lotus currently offers a stripped-down version of WebSphere 3.5 Standard Edition included with Domino R5.
Notes and Domino developers, meanwhile, are still struggling with Lotus' summary decision to break its commitment to Garnet.
The votes are in
Lotus has announced that Domino 6 will not support Java Server Pages -- a full-blown J2EE server like WebSphere is needed instead. Is this a good move?


79%: No way! I want to run Domino, not WebSphere. (1674 votes)
11%: Maybe. Performance might be better, but I'm concerned about the cost. (239 votes)
5%: Absolutely. It'll increase WebSphere adoption in Domino shops. (112 votes)
4%: It doesn't matter to me as long as Domino 6 is released on time. (85 votes)
Total votes: 2,110
In a recent searchDomino.com poll of more than 2,000 Notes and Domino professionals, 1674 (79%) objected to Lotus' decision; another 239 respondents (11%) balked at the expense of incorporating WebSphere products into Domino themselves.

For years, developers have tried to integrate Domino with a number of Java servers and development environments. Now some suspect IBM pushing them into purchasing WebSphere by making it the only environment that will work with Domino.

"We had hoped that Domino 6 would support JSP and J2EE," said Matthew Henry, Web development team leader at Greenville, S.C.-based KEMET Corp., "so we wouldn't have to continue to run multiple apps."

Henry currently cobbles together his Domino applications with J2EE-compliant Servlets and JSP with Sun Microsystems' Java Development Kit (JDK) and Macromedia's JRun Server.

Developers want some assurance that Domino 6 will work with servers other than WebSphere, Henry said. "And we don't want WebSphere. We want to use Apache [open-source code] or Macromedia with Domino if we have to make a choice."

But IBM has yet to offer specific details on whether Domino 6 buyers will have to pay for WebSphere, in order to play with Java.

If Domino 6 ships with WebSphere components, at no additional charge, "then Lotus will have removed the most significant argument against WebSphere [the additional cost]," said John Vester, principal technical analyst at Indianpolis, Ind.-based Meritage Technologies.

"When Lotus people are asked whether developers will have to purchase WebSphere to create and run Java Servlets, they begin waving their hands around in the air, and talk about packaging issues," said Meta Group analyst Matthew Cain. "Frankly, I don't think they know the answer."

IBM's nixing of Garnet, Cain said, "may have been a trial balloon." He thinks IBM Lotus will make a packaging decision as it nears its ship date for Domino 6, which will be in the third or fourth quarter of 2002.

Lotus may also be saving users time and trouble in the long run by killing Garnet while it's young.

"If we had gone down the Domino-JSP road," Vester said, "we would have found in all likelihood that it's not standardized, doesn't run fast enough and has buggy limitations."

Notes and Domino developers, meanwhile, aren't waiting for IBM to make up its mind about Java development for Domino 6: some are building their own, open-source alternatives to WebSphere.

The Notes Open Source Software Organization (NotesOSS.org), also known as "Notes Sauce," has announced Project Crimson, which will integrate Domino 6 with Apache's Jakarta Tomcat application server. A member of the group has also published instructions for integrating JSP engines with Domino 6 servers.

But IBM and Lotus, with WebSphere, may still have the upper hand over Tomcat in mid-size and large companies.

"Tomcat is going to work fine, no doubt about it," Henry said. "But a lot of CIOs and IT people don't trust applications that you can get for free."

Mark Baard is a contributing writer based in Milton, Mass.

FOR MORE INFORMATION:

CLICK for searchDomino's Featured Topic on Domino and J2EE

CLICK for searchDomino's full coverage of Lotusphere 2002
Dig Deeper on Lotus Domino Server 6