Admin2002: Disaster recovery planning is never complete
Admin2002: Disaster recovery planning is never done
Looking for something else?
BOSTON -- A Domino disaster recovery strategy, like the environment it is crafted to protect, must remain fluid and evolve along with a company's systems, or it runs the risk of being obsolete and unusable when it is needed most.

Download this free guide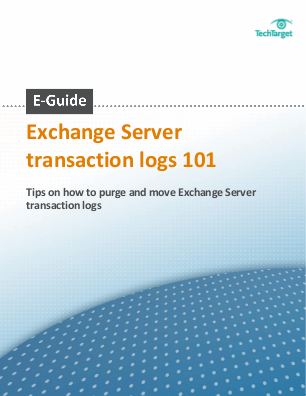 Download this strategic guide on moving Exchange Server transaction logs
Brush up on how log files have changed in Exchange to protect your setup against disaster, discover how to effectively purge transaction logs, and learn how to free up some of the disk space transaction logs have taken up on your drive.
By submitting your email address, you agree to receive emails regarding relevant topic offers from TechTarget and its partners. You can withdraw your consent at any time. Contact TechTarget at 275 Grove Street, Newton, MA.
You also agree that your personal information may be transferred and processed in the United States, and that you have read and agree to the Terms of Use and the Privacy Policy.

That was one of the key themes from e-Pro Magazine editor Libby Schwarz's seminar on disaster recovery planning at this week's Admin2002 administrator's conference, which was organized by the Domino technical journal The View.
"A Domino recovery plan you write today will have nothing to do with your systems in three years," said Schwarz.
She strongly recommended keeping a written record of all Domino-related changes and upgrades, and applying those changes to a disaster recovery strategy in a timely manner.
"Ten years ago, if I said e-mail was mission critical, you would have laughed at me," said Schwarz. Today, she added, e-mail is mission critical in almost all companies, and instant messaging is rapidly becoming as important.
Schwarz said a disaster recovery strategy should encompass more than just a company's Domino systems, but for smaller companies any plan is better than no plan. According to research firm Gartner, fewer than 25% of small companies have disaster recovery plans.
"The problem is those small companies are the ones that can't afford to lose anything," Schwarz said, and would benefit most by investing time and money in disaster recovery.
Schwarz added that a disaster is not necessarily defined as a life-altering event, such as a terrorist attack. Any event that poses a threat to Domino systems, like a damaging thunderstorm or a squirrel in an electrical transformer, can qualify.
Disaster recovery, Schwartz said, is not only about safeguarding, but also about prioritizing which systems and information are mission-critical. She said the application that costs a company the most money when it is down may not be the first one in line to be restored if the business can function without it for a short period.
Martha Isbister, a Notes administrator with the U.S. National Park Service in Denver who attended the seminar, said her IT department is developing a disaster recovery strategy, but she has found that protecting Domino systems is only a small part of what needs to be done.
"It's hard determining what to do with Domino without input from my WAN team," Isbister said.
FOR MORE INFORMATION:
CLICK for a Tech Tip on what you really need to know about disaster recovery
CLICK to start a discussion on disaster recovery in our Administrator Forum
CLICK for more articles by Eric B. Parizo
Dig Deeper on Domino Resources - Part 2