Despite down economy, Lotus keeps pushing KM
Despite a difficult economy, Lotus has been pitching its KM products all summer. Lotus denies that IBM is losing patience with the slow-moving KM market, but one analyst believes Lotus' KM strategy has changed significantly.
Looking for something else?
TECHNOLOGIES

IT vendors have faced a difficult economic climate throughout 2002, but that hasn't stopped Lotus Software from calling attention to its knowledge management offerings. The IBM unit may not have announced a knowledge management strategy shift, but one analyst thinks the company is taking a markedly different approach to the way it sells KM tools.

Jonathan Spira, chief analyst with New York research firm Basex Inc., said that recent moves by Lotus reflect a strategic shift away from traditional knowledge management toward what he defines as collaborative business knowledge (CBK) products.

Download this free guide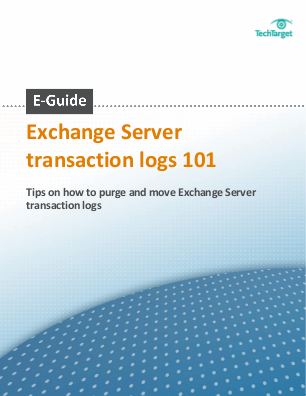 Download this strategic guide on moving Exchange Server transaction logs
Brush up on how log files have changed in Exchange to protect your setup against disaster, discover how to effectively purge transaction logs, and learn how to free up some of the disk space transaction logs have taken up on your drive.
By submitting your email address, you agree to receive emails regarding relevant topic offers from TechTarget and its partners. You can withdraw your consent at any time. Contact TechTarget at 275 Grove Street, Newton, MA.
You also agree that your personal information may be transferred and processed in the United States, and that you have read and agree to the Terms of Use and the Privacy Policy.

"Collaborative business knowledge is made up of groupware, expertise, document management, collaboration, data mining and community," said Spira. "It's not about taking all these things, adding water and saying you have KM, but it's taking the slices that are most critical to the individual enterprise. It's a very tailored concept."
Spira said Lotus has recognized that its original one-product-for-all view of KM was not "the be all and end all" for every potential customer.
A look back
Here's a brief timeline detailing Lotus' KM efforts during the summer of 2002:
June: At the 2002 IBM Software Symposium in Vienna, IBM announced IBM Lotus Domino.Doc 3.5, the latest version of its software designed for organizations needing a secure, enterprise-level document control and management system for business documents and corporate information.
Early July: Lotus released Discovery Server 2.0, its enterprise information indexing and search engine, with a redesigned user interface.
Late July: Lotus touts how several Major League Baseball teams are using IBM's Prospect Reporting and Organizational Solution (PROS), a Web-based information management software application based on Lotus Notes that allows scouts to quickly collect, store and access information on prospects and players.
August: In a SearchDomino exclusive, Contributing Writer Mark Baard reported that a number of Domino shops are basing their KM projects on existing software and not necessarily looking to build around Discovery Server, Lotus' KM cornerstone.
Throughout the summer, the IBM division has been heavily emphasizing its KM products -- despite the down economy and the difficulty in quantifying return on investment on KM projects. In early June, Lotus announced version 3.5 of its Domino.Doc document management software. In early July, Lotus released version 2.0 of its Discovery Server, its enterprise information indexing and search engine. Later in the month, it kicked up KM dust with PROS, its Web-based information management software for sports organizations.

Antony Satyadas, business leader for knowledge discovery at IBM and Lotus, said that even though some customers want to take "the big bang approach" and implement full KM systems, Lotus is not as interested in that product strategy as it once was. Instead, it wants to focus on providing KM functionality that is tailored to customers' specific needs.

Satyadas said Lotus has been emphasizing KM over the past few months in order to take advantage of synergy within IBM as well as wider business opportunities.

"KM is gathering more and more momentum, and the important thing to keep in mind is KM is very pervasive," Satyadas said. "These capabilities hook into many areas, like WebSphere Portal or our dynamic workplaces, and more and more you'll see it hook into multiple solutions."

Satyadas denied speculation that IBM is losing patience with Lotus and the slow-moving KM market, saying that all of IBM is committed to the concept. Though he said it's been "a great year so far" in terms of KM sales, he declined to offer any sales figures.

According to Spira, Lotus and other knowledge management companies have had difficulty selling customers on the concepts of knowledge management, but Lotus in particular has made great strides in embedding those concepts in its products, especially the upcoming release of Notes and Domino 6.

"Lotus people are starting to understand the bridge between tech and the business world," Spira said. "They weren't always committed to or capable of getting that message across."

In fact, Satyadas said Lotus recently dismantled its crown jewel Knowledge Discovery System, the long-ballyhooed offering that bundled the Discovery Server with the K-station portal, which served as the interface to applications, back-end systems and KM.

Today, Lotus offers Discovery Server, Domino.Doc, its Domino Workflow business process management software and the Domino Extended Search tool for searching across heterogeneous data sources as separate products. The K-station portal is now a part of IBM's WebSphere Portal 4.1 product.

Despite past challenges, Spira said Lotus is still the leader in the KM market, and he predicts a "slow but steady upward tick" in KM sales.

"Obviously KM is about the drive toward business integration," said Satyadas, "and for us that means not only [connecting] the IBM portfolio of products, but that means connecting other products."

FOR MORE INFORMATION:

CLICK for an exclusive article: KM: Lotus' yellow brick road

CLICK to watch our Lotus Live! Webcast with David Kajmo on KM

CLICK for our Featured Topic on knowledge management

CLICK for other articles by Eric B. Parizo
Dig Deeper on Lotus Notes Domino Administration Tools