New and Notesworthy, Oct. 2003
From new tools for ND 6.5 to exams to get you ready for certification, several third-party Domino providers are issuing new releases this month.
Looking for something else?
Gallatin upgrades kNews for group management in Notes
Gallatin Technologies in San Diego, Calif., has released kNews Professional 2.2.6, an automated tool for building and managing multiple permission-based e-mail list groups in Notes. With kNews, new subscribers can be added to an e-mail list group by the subscriber completing a Web-based registration form, a computer process sending in a pre-configured e-mail message, or by a kNEWS administrator importing it.

Download this free guide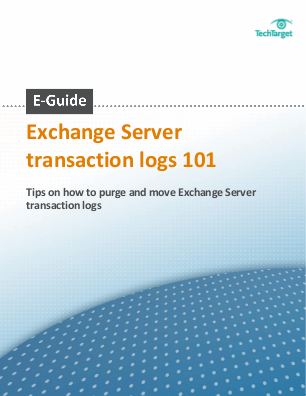 Download this strategic guide on moving Exchange Server transaction logs
Brush up on how log files have changed in Exchange to protect your setup against disaster, discover how to effectively purge transaction logs, and learn how to free up some of the disk space transaction logs have taken up on your drive.
By submitting your email address, you agree to receive emails regarding relevant topic offers from TechTarget and its partners. You can withdraw your consent at any time. Contact TechTarget at 275 Grove Street, Newton, MA.
You also agree that your personal information may be transferred and processed in the United States, and that you have read and agree to the Terms of Use and the Privacy Policy.

kNEWS can be installed in less than two hours and requires minimal support from the IT department, the company said. Gallatin offers kNews source code as an option so that companies with Notes expertise can customize the application to their business requirements and integrate it into their existing environment.

New Domino.Doc cert practice exam available

Columbus, Ohio-based CertFX is offering a certification practice test for the 190-563 Domino.Doc 3.0 Customization exam. Those who pass the exam earn the title "IBM Certified Associate Developer - Lotus Collaborative Solutions." Users who pass additional tests in the collaborative solutions development track are eligible for other certifications too. This is the 28th practice test that CertFx has released this year.

CertFX has announced plans to release practice tests for other IBM product brands such as Tivoli, Websphere and DB2 as well as the Windows 2003 exams by the end of this year.

Stampede, DYS Analytics to support ND 6.5

Stampede Technologies Inc., Dayton, Ohio, will support Notes/Domino 6.5 in the Stampede TurboGold Enterprise Edition family of performance and acceleration products. Stampede provides software for Web acceleration, data storage, data control and data movement. Stampede supports all previous releases back to 4.51, as well as Lotus Instant Messaging and Lotus Team Workplace.

Also announcing support for ND 6.5 is Wellesley, Mass.-based DYS Analytics Inc. Its family of Control enterprise application management products offer usage metrics, analysis and monitoring for more efficient management of Lotus Notes and Domino networks.

Hypersoft targets SMBs with OmniAnalyzer Standard

Munich, Germany-based Hypersoft Informationssysteme GmbH released OmniAnalyzer Standard Edition, messaging reporting and analysis software for Lotus Domino/Notes, Microsoft Exchange, Sun ONE Integration Server (iPlanet) and Sendmail. The tool was designed especially for small enterprises, as evidenced by its pricing models and ease of installation. The tool features ready-to-use Web reports and gathers information from the messaging environment about mailbox sizes, subject lines and attachments. It can also garner information on who e-mails whom and what domain is the most popular, as well as how much mail a server processes.

Garan chooses RPR Wyatt for Domino support

RPR Wyatt was chosen to be Garan's primary technical support provider for Lotus Domino administration. RPR Wyatt is an IBM Business Partner; New York City-based Garan makes Garanimals clothing for children. Wyatt's services include remote support, remote administration, migration assistance and administrator mentoring and are aimed at organizations that use Notes and Domino for collaboration and messaging.

ReduceMail Pro Archive gets hierarchical storage feature

New York City-based Avalon Business Systems added a hierarchical storage management feature to its ReduceMail Pro Archive product. The addition should assist Lotus Notes administrators in managing different types of storage media by allowing them to store mail databases to different media (based on the age of the archive and retrieval requirements) over different time intervals. The tool aims to decrease cost as all databases no longer need to be archived to merely one medium.

TheBrain Technologies releases Lotus Notes Connector v1.0

TheBrain Technologies Corp., a provider of comprehensive knowledge applications, announced that it has released Lotus Notes Connector v 1.0 as an additional component of BrainEKP, TheBrain's Enterprise Knowledge Platform.

BrainEKP's Lotus Notes Connector is designed specifically for companies creating and accessing information within Lotus Notes. The connector enables companies to see and leverage their Lotus Notes information in the context of company projects, customer scenarios and business processes. Features include the ability to create dynamic connections across multiple Notes databases; and visualizing Notes data within the context of all related business processes, connecting Notes data to relational databases, documents and Web pages.

Trend Micro offers support for IBM Lotus Domino 6.5

Trend Micro, a network virus and Internet security software and services company in Cupertino, Calif., announced support for IBM Lotus Domino 6.5 with its Trend Micro ScanMail for Lotus Notes version 2.6 antivirus and content security tool.

ScanMail for Lotus Notes version 2.6 is designed to improve customers' ability to thwart viruses, worms and other malicious content. It can block or remove unsolicited e-mails before they enter the corporate network using Trend Micro's Enterprise Protection Strategy.

Trend Micro ScanMail for IBM Lotus Notes/Domino version 2.6 for Windows, Linux, Solaris, AIX, and AS/400 supports the IBM Lotus Domino 6.5 release as September. OS/390 support is due in October. Pricing for Windows or Linux support begins at $30 per user for a 25-user license, with volume license discounts at higher user counts.

Percussion to offer Lyrix content integration tool

Stoneham-Mass.-based Percussion Software, a maker of enterprise content management software and Lotus Domino development tools, will introduce its Lyrix content integration tool this month. Lyrix unlocks proprietary Lotus Domino content and allows reuse of Domino content in multiple, non-Domino enterprise applications. Lyrix works with legacy and newer Domino applications and supports a wide range of target enterprise applications, including Web apps, intranet, Internet and extranet, portals, sales force automation apps, customer relationship management systems and Percussion's Rhythmyx 5 ECM system. Pricing for the Lyrix Starter Package is $34,000.

To include your announcement in New and Notesworthy, e-mail Jon Panker, news editor
Dig Deeper on Domino Resources