A Faster Alternative To Using A Dblookup
Looking for something else?
If you want a certain value to display based on what a user selects in another
field, most of the time this can be done easily with a dBLookup, but sometimes
there can be a significant delay if the database is large. In order to speed
this up, you can compute the lists available to the user in the PostOpen event
to make them available on the new document being created and then use the
@Member function.
Country_Names : This field contains a list of Country Names (i.e. Canada,
United States, England). Hidden, computed field. Can be calculated during the
PostOpen event for the form based on the user, role or some other criteria.

Country_Desc : This field contains a list of corresponding descriptions for
each Country (i.e. Great White North, The Land of the Free, The Home of Royalty
and Boiled Food ). Hidden, computed field. Must be computed based on the same
criteria as Country_Names in order to contain the corresponding descriptions.

Selected_Country : Keyword field with the following formula for the list of
keywords : @Trim(@Unique(Country_Names))

Display_Country_Desc : Computed for Display field with the following formula :
index := @Member(Selected_Country; @Trim(Country_Names));
@If(index = 0; Display_Country_Desc; @Trim(@Subset(@Subset(Country_Desc;
index); -1)))

Download this free guide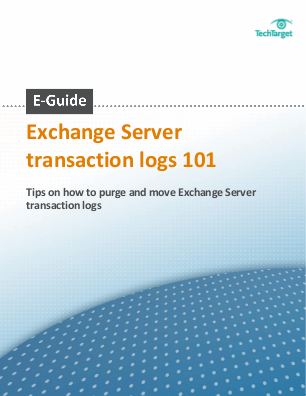 Download this strategic guide on moving Exchange Server transaction logs
Brush up on how log files have changed in Exchange to protect your setup against disaster, discover how to effectively purge transaction logs, and learn how to free up some of the disk space transaction logs have taken up on your drive.
By submitting your email address, you agree to receive emails regarding relevant topic offers from TechTarget and its partners. You can withdraw your consent at any time. Contact TechTarget at 275 Grove Street, Newton, MA.
You also agree that your personal information may be transferred and processed in the United States, and that you have read and agree to the Terms of Use and the Privacy Policy.

Dig Deeper on Domino Resources - Part 2