A LotusScript agent that works around the Ajax cross-domain limitation
SearchDomino.com member Sean Burgess explains how to create a simple LotusScript agent that can retrieve Ajax data from other domains.
Looking for something else?
This tip was submitted to the SearchDomino.com tip library by member Sean Burgess. Please let others know how useful it is via the rating scale at the end of the tip. Do you have a useful Lotus Notes, Domino, Workplace or WebSphere tip or code snippet to share? Submit it to our monthly tip contest and you could win a prize.

Download this free guide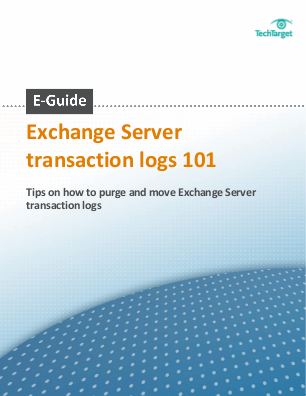 Download this strategic guide on moving Exchange Server transaction logs
Brush up on how log files have changed in Exchange to protect your setup against disaster, discover how to effectively purge transaction logs, and learn how to free up some of the disk space transaction logs have taken up on your drive.
By submitting your email address, you agree to receive emails regarding relevant topic offers from TechTarget and its partners. You can withdraw your consent at any time. Contact TechTarget at 275 Grove Street, Newton, MA.
You also agree that your personal information may be transferred and processed in the United States, and that you have read and agree to the Terms of Use and the Privacy Policy.

---
Ajax is a great tool for building slick applications, but it has one limitation that has made me dismiss using it in the past. After speaking to Chris Toohey, and getting inspiration for (i.e., stealing) some code from him, I've come up with a simple LotusScript agent that allows me to retrieve Ajax data from other domains.
Before I explain further, you should know that, while this LotusScript agent is incredibly simple, I have no idea what kind of impact it will have on the server -- so test it thoroughly before you implement it within your Lotus Notes environment.
First, create a new LotusScript agent and set the "runtime security level" to 2 and allow "Restricted Operations." The agent can be as complex as you want, but the code below is all that's necessary.
Now create an Ajax call on your page that calls the LotusScript agent you've created, then pass the URL you want to retrieve as a query string parameter. That's all it takes to have one Ajax call access another Ajax call to retrieve data from a different domain.
 
Dim s As New NotesSession Dim doc as NotesDocument Dim xml 
As Variant Dim temp As String Set doc = session.DocumentContext temp = 
StrRight(doc.Query_String_Decoded(0),"url=") Set xml = 
CreateObject("Microsoft.XMLHTTP") xml.Open "GET", temp , False xml.Send 
Print "Content-Type:text/html" Print "Cache-Control:NoCache" 
Print Cstr(xml.ResponseText) Set xml = nothing

Do you have comments on this tip? Let us know.
Related information from SearchDomino.com:
Dig Deeper on Lotus Notes Domino Agents