A Refactored Web Delete Button Script
Looking for something else?
This is based on "Prompt For Web Delete" from Michael Fromin, August 2000. I did this independently but I saw his script and used it to streamline mine. His had a typo which is fixed in my rewrite which I have made more generic, with inline comments. The only localized piece is the top 3 variables. The rest can be dropped into any design.


Download this free guide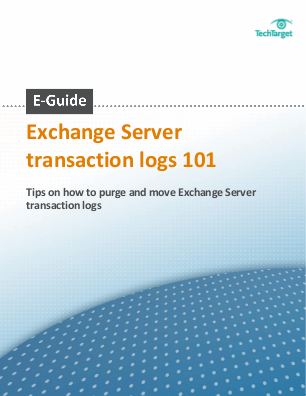 Download this strategic guide on moving Exchange Server transaction logs
Brush up on how log files have changed in Exchange to protect your setup against disaster, discover how to effectively purge transaction logs, and learn how to free up some of the disk space transaction logs have taken up on your drive.
By submitting your email address, you agree to receive emails regarding relevant topic offers from TechTarget and its partners. You can withdraw your consent at any time. Contact TechTarget at 275 Grove Street, Newton, MA.
You also agree that your personal information may be transferred and processed in the United States, and that you have read and agree to the Terms of Use and the Privacy Policy.


 // the key field, Unique ID field and default view are all set by you, the developer in your own db // A unique ID field must be set with an @text formula before it can be used // database-specific variables, your fieldnames may vary var Viewname="($All)"; var docKeyfield=Company.value; var docid=Uid.value; //generic variables based around current doc's URL var DocCmd="?Deletedocument"; var docURL = document.URL; var end = parseInt(docURL.lastIndexOf('?')); docUNID = docURL.substring(0,end); // create the URL to do the transaction var actURL=docUNID + DocCmd; // debug dialogs - uncomment to troubleshoot //alert ('actURL returns: ' + actURL) ; msg='Are You sure you want to DELETE this order for ' + docKeyfield + ' ?'; if (confirm(msg)) { window.location=actURL; }

Dig Deeper on Domino Resources - Part 2