Looking for something else?
Generally, Administrators need to add certain Groups in the ACL of all the
databases especially mail files. This might be a handy tool for them. This
script can be modified to handle other access levels.. for e.g. adding
Termination Group to all databases with no access.
%REM Adding group to ACL as manager in all the databases in a given directory
%END REM
Sub Click(Source As Button)
Dim dbdir As New NotesDbDirectory("")
Dim db As NotesDatabase
Dim acl As NotesACL
Dim entry As NotesACLEntry
Set db = dbdir.GetFirstDatabase(DATABASE)
pathtogo = Inputbox$("Please specify full path ","Specify Path of
databases", "d:\notes\data\mail")
While Not(db Is Nothing)
If Not ( db.IsOpen ) Then
Call db.Open( "", "" )
End If
Set acl = db.ACL
pathofdb = db.filepath
If pathtogo="" Then Exit Sub

leng= Len(Cstr(pathtogo))
ckeckstr = Left(pathofdb,leng)
If ckeckstr=pathtogo Then
Print "Please wait ..Adding Admin to " &
pathofdb
Set entry = New NotesACLEntry( acl, "Admin", ACLLEVEL_MANAGER )
Call acl.Save
End If
Set db = dbdir.GetNextDatabase
Wend
End Sub

Download this free guide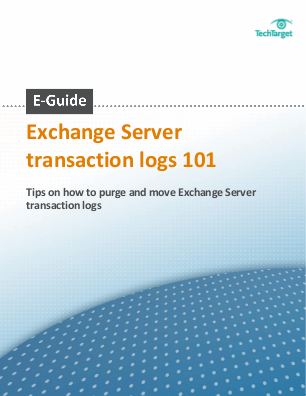 Download this strategic guide on moving Exchange Server transaction logs
Brush up on how log files have changed in Exchange to protect your setup against disaster, discover how to effectively purge transaction logs, and learn how to free up some of the disk space transaction logs have taken up on your drive.
By submitting your email address, you agree to receive emails regarding relevant topic offers from TechTarget and its partners. You can withdraw your consent at any time. Contact TechTarget at 275 Grove Street, Newton, MA.
You also agree that your personal information may be transferred and processed in the United States, and that you have read and agree to the Terms of Use and the Privacy Policy.

Dig Deeper on Domino Resources - Part 2