Alternative to Richtext Applet
Alternative to Richtext Applet
Looking for something else?
Many times when we want to use the Richtext applet, we ponder over the download time of the applet to the client. Here is an alternative to the Richtext applet, that is using the Microsoft IE DHTML Editing Component. The component itself allows creation of table on the fly which is not achievable with the Notes Richtext applet out-of-the box.

Download this free guide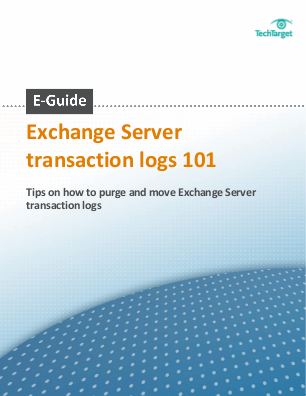 Download this strategic guide on moving Exchange Server transaction logs
Brush up on how log files have changed in Exchange to protect your setup against disaster, discover how to effectively purge transaction logs, and learn how to free up some of the disk space transaction logs have taken up on your drive.
By submitting your email address, you agree to receive emails regarding relevant topic offers from TechTarget and its partners. You can withdraw your consent at any time. Contact TechTarget at 275 Grove Street, Newton, MA.
You also agree that your personal information may be transferred and processed in the United States, and that you have read and agree to the Terms of Use and the Privacy Policy.

Click on the link below to download the DHMTL editing component samples. Unzip the file, go to the 'WebEdit' folder samples, copy the html code for each of the html files into a page or a form in domino designer. You need also create all the images into the image resource and modify all <IMG SRC=''> accordingly. To save the content inside the component, save the html content to a richtext field via the 'DocumentHMTL' properties.
http://msdn.microsoft.com/downloads/samples/internet/default.asp?url=/Downloads/samples/Internet/browser/editcntrl/Default.asp
More info could also be found at the SDK Documentation:
http://msdn.microsoft.com/library/default.asp?url=/workshop/author/dhtml/dhtml.asp
Dig Deeper on Lotus Notes Domino Administration Tools