This agent can change the status of received Lotus Notes documents to "Approved" when using a Blackberry mobile device.
Using Http_Rim_Device_Email, allows you to match your BlackBerry email to the email address specified in a Lotus Notes admin document. If the email messages match, the message recipient can approve the Notes document using a Blackberry device.
Before implementing this, select the "Approve" link on the form to call the agent:
<a href="<Computed Value>">Approve</a>
Your <Computed Value> will have the following formula:
"http://server/filename.nsf/Agent Name?OpenAgent&docid=" + @Text(@DocumentUniqueID) + ""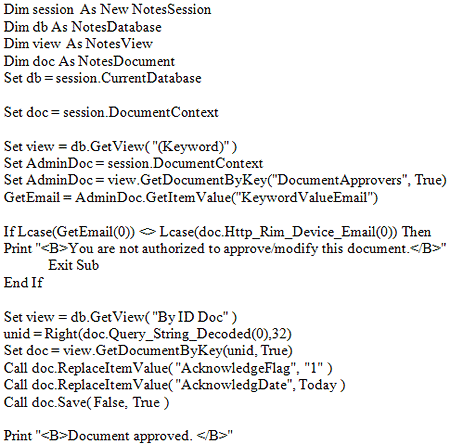 (Click on code for enlarged view and script download.)
Do you have comments on this tip? Let us know.
This tip was submitted to the SearchDomino.com tip library by member Vadim Roshass. Please let others know how useful it is via the rating scale below. Do you have a useful Lotus Notes/Domino technical tip or code snippet to share? Submit it to our monthly tip contest and you could win a prize.

This was first published in February 2009