Assign a string to JavaScript variable with instances of double quotes
This tip shows you how to assign a string to a JavaScript variable with instances of double quotes.
Looking for something else?
This tip shows you how to assign a string to a JavaScript variable with instances of double quotes.
It took me two days to think of a solution to how I can convert the value of XML parsed by an XSLT code, and assign it to a JavaScript variable to be of data type string. Normally, JavaScript will return an error if you do that this way:

Download this free guide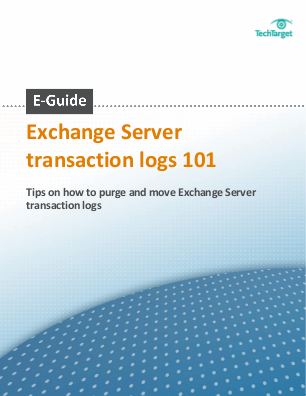 Download this strategic guide on moving Exchange Server transaction logs
Brush up on how log files have changed in Exchange to protect your setup against disaster, discover how to effectively purge transaction logs, and learn how to free up some of the disk space transaction logs have taken up on your drive.
By submitting your email address, you agree to receive emails regarding relevant topic offers from TechTarget and its partners. You can withdraw your consent at any time. Contact TechTarget at 275 Grove Street, Newton, MA.
You also agree that your personal information may be transferred and processed in the United States, and that you have read and agree to the Terms of Use and the Privacy Policy.


var sample="<xsl:value-of select="alt"/> "

It will return an error because the outside double quotes will be terminated when the XSLT code returns a value that contains double quotes. To resolve the problem, I assigned the value returned by the XSLT code to a DIV tag, accessed the value of the DIV by assigning an ID and then accessed the innertext of the DIV tag using JavaScript.
STEP 1:

<xsl:for-each select="//CompanyLogo/LogoLeft/Image">
<DIV ID="logoleftAlt" style="display:none"> <xsl:value-of 
select="alt"/> </DIV> </xsl:for-each>

STEP 2:

<Script Language="JavaScript">
  
var leftImg = new Array();
var rightImg = new Array();
var leftAlt = new Array();
var rightAlt = new Array();
                var ctr1=0;
      
<xsl:for-each select="//CompanyLogo/LogoLeft/Image">
                       
                      
leftImg[<xsl:number level="any" count="CompanyLogo"/>] 
= "<xsl:value-of select="src"/>";

if (logoleftAlt[0]==undefined){
                           var content=new String(logoleftAlt.innerText);
                                                      
logoleftAlt.innerText=content;
                           leftAlt[<xsl:number level="any" 
count="CompanyLogo"/>] = logoleftAlt.innerText;
                        } else if (logoleftAlt.length-1>0)
{                            var content=new String
(logoleftAlt[ctr1].innerText);
                                                      
logoleftAlt[ctr1].innerText=content;
                           leftAlt[<xsl:number level="any" 
count="CompanyLogo"/>] = logoleftAlt[ctr1].innerText;
                        }
                        ctr1++;
                 
  </xsl:for-each>

---
Do you have comments on this tip? Let us know.
This tip was submitted to the SearchDomino.com tip exchange by member Sherwin A. Amagan. Please let others know how useful it is via the rating scale at the end of the tip. Do you have a useful Notes/Domino tip or code to share? Submit it to our monthly tip contest and you could win a prize and a spot in our Hall of Fame.

Dig Deeper on JavaScript for Lotus Notes Domino