Background Color On Documents
Looking for something else?
Everybody knows that you can play with the background color of forms, and also
that individual documents can be assigned a background color (or even
background graphics). Just enter a document in edit mode, choose Document
Properties, and use the Background-tab.

This is a little fun. What's a lot of fun is what you can do this in code. The
whole secret is the field $PaperColor. This is a number field which holds the
integer value for the color that is to be used for the background. The possible
values can be deducted from a standard Notes color picker. Just count left to
right and top to bottom, starting with zero (0=black, 1=white, 2=red, 3=green,
4=blue etc.) and skipping the first two lines (the standard 16-color palette).
Every row starts with a multiple of 16 (0, 16, 32 etc.) With this knowledge you
can indicate the status of documents, e.g. customers who don't pay their bills
show up in heavy red, approved documents get a green background etc. And when
the indicator is no longer needed, you can remove it and let the form default
take over.

As with most things Notes-like there is a small problem. You can't change the
field in QuerySave. (I think it's got something to do with the sequence a
document follows backend when it is saved.) You have to do all dynamic changes
in QueryClose, which means you'll have to set a global flag indicating whether
the document has been saved. See the example in the code below.

Oh, and the code contains another neat trick: $-fields *can* be referenced by
extended syntax. Just place a ~ (tilde) before the $-sign and everything is OK.
(Declarations, Globals)
Dim GlobalSaveFlag as Integer

QuerySave:


GlobalSaveFlag = Continue ' So that if anything else modifies
' Continue, it is detected.
End Sub

QueryClose:

If GlobalSaveFlag Then
' Remove?
Call document.RemoveItem("$PaperColor")
' Change?
document.~$PaperColor = ... ' Whatever
End If
End Sub

Download this free guide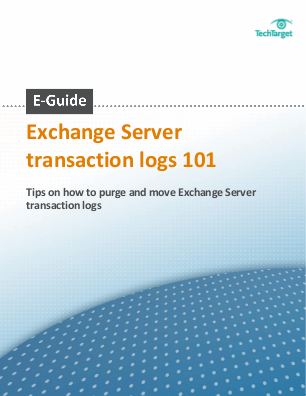 Download this strategic guide on moving Exchange Server transaction logs
Brush up on how log files have changed in Exchange to protect your setup against disaster, discover how to effectively purge transaction logs, and learn how to free up some of the disk space transaction logs have taken up on your drive.
By submitting your email address, you agree to receive emails regarding relevant topic offers from TechTarget and its partners. You can withdraw your consent at any time. Contact TechTarget at 275 Grove Street, Newton, MA.
You also agree that your personal information may be transferred and processed in the United States, and that you have read and agree to the Terms of Use and the Privacy Policy.

Dig Deeper on Domino Resources - Part 2