Better than private views
This tip describes how to give users an almost private view.
Looking for something else?
This tip gives users an "almost private" view. This formula will take the user's cursor directly to any category when the view is opened, it will expand the category showing all documents, it will always display neatly at the top of the view and will do so dynamically for individual users. Especially good when used with a view categorized by @Name.

Download this free guide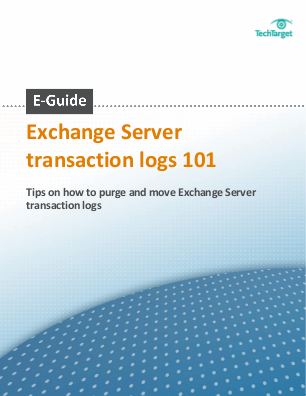 Download this strategic guide on moving Exchange Server transaction logs
Brush up on how log files have changed in Exchange to protect your setup against disaster, discover how to effectively purge transaction logs, and learn how to free up some of the disk space transaction logs have taken up on your drive.
By submitting your email address, you agree to receive emails regarding relevant topic offers from TechTarget and its partners. You can withdraw your consent at any time. Contact TechTarget at 275 Grove Street, Newton, MA.
You also agree that your personal information may be transferred and processed in the United States, and that you have read and agree to the Terms of Use and the Privacy Policy.


Instead of seeing a categorized view like this: > Andrew Bacon > Bert Newton > Isaac Asimov > James Joyce > John Smith the user Isaac Asimov would see the following and won't even notice the other documents - he will just see his name at the top of the view and all documents underneath: >Isaac Asimov document.. document.. document.. document.. document.. document.. document.. >James Joyce >John Smith Steps: 1. Build categorised view (one based on notes name works well). 2. Add formula below to the PostOpen even of the view. 3. Modify the 1st line of the formula to include the current view alias. This formula requires custom _viewName and _key values per view. Formula: REM " =================================================================== " ; REM " Go to users personal category and expand, if available. " ; REM " Categorise view by Common user name (or anything to match the *_key* below) " ; REM " Note: *_thisView* must contain the name/alias of the current view "; REM " and must be modified per view. " ; REM " ==================================================================== " ; _thisView := "XXXXXXXX" ; _key := @Name([CN];@UserName) ; _val := @DbLookup( "":"NoCache" ; "" ; _thisView ; _key ; 1 ) ; @Command([ViewCollapseAll]) ; @If( !@IsError( _val ) ; @PostedCommand( [OpenView] ; _thisView ; _key ) : @PostedCommand( [ViewExpand] ) ; "" )

Dig Deeper on Domino Resources - Part 2