Change spelling dictionary from menu, extended
Extension of another tip on the same subject
Looking for something else?
With reference to Olav Lahmann's tip :
http://searchdomino.techtarget.com/tip/1,289483,sid4_gci534097,00.html
I modified the code slightly to include a form for a Dialogbox, in order to get a more presentable function, and to avoid several agents.
The function
- displays the current dictionary.
- searches the clients data dir in order to allow selection of available .dic files except user.dic
- Sets Notes.ini to use selected dictionary

Download this free guide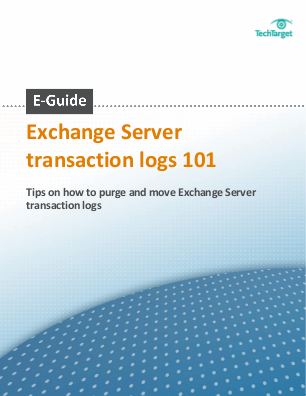 Download this strategic guide on moving Exchange Server transaction logs
Brush up on how log files have changed in Exchange to protect your setup against disaster, discover how to effectively purge transaction logs, and learn how to free up some of the disk space transaction logs have taken up on your drive.
By submitting your email address, you agree to receive emails regarding relevant topic offers from TechTarget and its partners. You can withdraw your consent at any time. Contact TechTarget at 275 Grove Street, Newton, MA.
You also agree that your personal information may be transferred and processed in the United States, and that you have read and agree to the Terms of Use and the Privacy Policy.

The use of @Dialogbox requires a form to be triggered from, and therefore this method isn't as dynamical as one might wish... But I guess that it still needs a lot of coding to be perfect.
I have only included some dictionaries that we use, if you use others, they will of course have to be specified in both the "Sub Calculate" and the OK button.
*** Shared action to open the dialogbox:
Dlgform:="DlgSelectDictionary";
title:="Change spelling dictionary";
@DialogBox( Dlgform ; [AutoHorzFit] : [AutoVertFit] 
: [NoCancel] : [NoNewFields] : [NoFieldUpdate] 
: [SizeToTable] : [NoOKCancel] ; title )
--------------------------------


*** Form: i.e. "DlgSelectDictionary"
postopen on form:?
Sub Postopen(Source As Notesuidocument)
	Dim workspace As New NotesUIWorkspace
	Dim uidoc As NotesUIDocument
	Set uidoc = workspace.CurrentDocument
	Call uidoc.refresh
	Call calculate()
End Sub
--------------------------------

*** Sub Calculate on form:
Sub Calculate()
  Dim workspace As New NotesUIWorkspace
  Dim uidoc As NotesUIDocument
  Dim s As New NotesSession
  Dim doc As Notesdocument
  Dim sDictionary As String
  Dim boxType As Long, ret As Integer
  Dim sDir As String, iFile As Integer
  Dim FileName As String 
  Dim item As NotesItem
	
  Set uidoc = workspace.CurrentDocument
  Set doc = uidoc.document
  Set item = doc.GetFirstItem( "AvailableDics" )
	
  boxType& = MB_YESNO + MB_ICONQUESTION
  sDictionary = s.GetEnvironmentString( "SPELL_LANG", True ) 
  Dim sTempString(1 To 9, 1 To 3) As String
  sTempString(1,1) = "Norwegian (Bokmal)"		
  sTempString(1,2) = "1044"
  sTempString(1,3) = "norbok.dic"
  sTempString(2,1) = "Norwegian (Nynorsk)"
  sTempString(2,2) = "2068"
  sTempString(2,3) = "nornyn.dic"
  sTempString(3,1) = "English (USA)"
  sTempString(3,2) = "1036"
  sTempString(3,3) = "us.dic"
  sTempString(4,1) = "English (UK)"		
  sTempString(4,2) = "2057"	
  sTempString(4,3) = "uk.dic"
  sTempString(5,1) = "German (Standard)"	
  sTempString(5,2) = "1033"
  sTempString(5,3) = "deutsch.dic"
  sTempString(6,1) = "French"
  sTempString(6,2) = "1040"
  sTempString(6,3) = "francais.dic"
  sTempString(7,1) = "Spanish"
  sTempString(7,2) = "1034"
  sTempString(7,3) = "espana.dic"
  sTempString(8,1) = "Danish"
  sTempString(8,2) = "1030"	
  sTempString(8,3) = "dansk.dic"
  sTempString(9,1) = "Finnish"
  sTempString(9,2) = "1035"
  sTempString(9,3) = "suomi.dic"
  LB1 = Lbound(sTempString, 1)
  UB1 = Ubound(sTempString, 1)	
  LB2 = Lbound(sTempString, 2)
  UB2 = Ubound(sTempString, 2)
	
  For i = LB1 To UB1
    If sTempString(i, 2) = sDictionary Then
      doc.TmpCurrentDic=sTempString(i, 1)
      ret=6
    End If
  Next			
	
  If ret = 6 Then
    wildCard = "*.dic"
    pathName = s.GetEnvironmentString( "Directory", True )
    fileName = Dir$(pathName + wildcard, 0)
    Do While fileName <> ""
      For j = LB1 To UB1
        If Lcase(fileName)=Lcase(sTempString(j, 3)) Then
          Call item.AppendToTextList(sTempString(j,1) & "|" & sTempString(j,3))
        End If
      Next		
      Call uidoc.refresh			
      fileName = Dir$()			
    Loop					
  Else
    Exit Sub
  End If
  Exit Sub 
End Sub
--------------------------------

*** Fields on form: 
I made a form with a table in order to use the @Dialogbox function 
with the following fields:

** Hidden and computed:
fieldname: "AvailableDics"
Computed value: ["AvailableDics"]

fieldname: "TmpCurrentDic" 
Computed value: ["TmpCurrentDic"]

fieldname: "SaveOptions" 
Computed value: ["0"]
--------------------------------

** UNhidden and computed
fieldname: "CurrentDic" 
Computed value: [@If(TmpCurrentDic="";"[Unknown dictionary!]";
TmpCurrentDic)]
--------------------------------

** UNhidden and editable (radiobutton)
fieldname: "DspAvailableDics" 
Set field to "Use formula for choices"
where choices (formula) is: 
remove:="user.dic";
ret1:=@Implode(AvailableDics;"~");
ret2:=@ReplaceSubstring(ret1;remove;"");
@Explode(ret2;"~")

--------------------------------
*** OK button 
Then you need an "OK" button on the form:
with folowing code

Sub Click(Source As Button)
  Dim session As New NotesSession
  Dim workspace As New NotesUIWorkspace
  Dim uidoc As NotesUIDocument
  Dim doc As Notesdocument	
  Set uidoc = workspace.CurrentDocument
  Set doc = uidoc.document
  
  Dim sTempString(1 To 9, 1 To 3) As String
  sTempString(1,1) = "Norwegian (Bokmal)"		
  sTempString(1,2) = "1044"
  sTempString(1,3) = "norbok.dic"
  sTempString(2,1) = "Norwegian (Nynorsk)"
  sTempString(2,2) = "2068"
  sTempString(2,3) = "nornyn.dic"
  sTempString(3,1) = "English (USA)"
  sTempString(3,2) = "1036"
  sTempString(3,3) = "us.dic"
  sTempString(4,1) = "English (UK)"		
  sTempString(4,2) = "2057"	
  sTempString(4,3) = "uk.dic"
  sTempString(5,1) = "German (Standard)"	
  sTempString(5,2) = "1033"
  sTempString(5,3) = "deutsch.dic"
  sTempString(6,1) = "French"
  sTempString(6,2) = "1040"
  sTempString(6,3) = "francais.dic"
  sTempString(7,1) = "Spanish"
  sTempString(7,2) = "1034"
  sTempString(7,3) = "espana.dic"
  sTempString(8,1) = "Danish"
  sTempString(8,2) = "1030"	
  sTempString(8,3) = "dansk.dic"
  sTempString(9,1) = "Finnish"
  sTempString(9,2) = "1035"
  sTempString(9,3) = "suomi.dic"
  LB1 = Lbound(sTempString, 1)
  LB2 = Lbound(sTempString, 2)
  UB1 = Ubound(sTempString, 1)
  UB2 = Ubound(sTempString, 2)
  
  If Not doc.DspAvailableDics(0)="" Then
    For i = LB1 To UB1
      If sTempString(i, 3) = doc.DspAvailableDics(0) Then
        SelDic=sTempString(i, 2)
        SelDicDsp=sTempString(i, 1)
      End If
    Next			
		
    Call session.SetEnvironmentVar( "SPELL_LANG", SelDic, True )
    SL = session.GetEnvironmentString( "SPELL_LANG", True )
    Print "You have now changed the spelling dictionary to " & SelDicDsp
    Call uidoc.Close		
  Else
    Msgbox "You must select a dictionary.",, "Error!"
  End If		
End Sub
--------------------------------

*** Cancel button
And a "Cancel" button
code - formula: @Command([FileCloseWindow])
--------------------------------
Dig Deeper on Lotus Notes Domino Administration Tools