Changing printer orinetation for Windows 2000
This tip describes changing printer orinetation for Windows 2000.
Looking for something else?

Download this free guide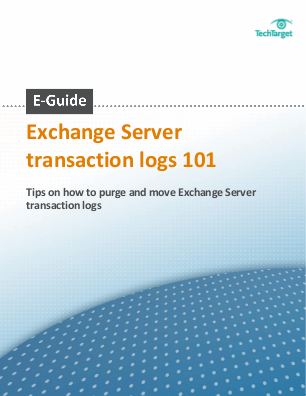 Download this strategic guide on moving Exchange Server transaction logs
Brush up on how log files have changed in Exchange to protect your setup against disaster, discover how to effectively purge transaction logs, and learn how to free up some of the disk space transaction logs have taken up on your drive.
By submitting your email address, you agree to receive emails regarding relevant topic offers from TechTarget and its partners. You can withdraw your consent at any time. Contact TechTarget at 275 Grove Street, Newton, MA.
You also agree that your personal information may be transferred and processed in the United States, and that you have read and agree to the Terms of Use and the Privacy Policy.

This code chages the printer orientation in windows 2000.
This final code was adapted form a VB code posted by Frank Boudreau.

In a View Action, write the following code.

In the Options tab:
Option Public
Use "ChangePrinterOrientation"

In the Declarations tab:
Declare Function GetProfileString Lib "Kernel32" Alias "GetProfileStringA" 
(Byval lpAppName As String, Byval lpKeyName As String, _
Byval lpDefault As String, Byval lpReturnedString As String, Byval nSize As Long) As Long

In the Click tab:
Dim result As Variant
Dim printerName As String
Dim nPos As String
 
'Get the printer name
printerName = String(128, 0)
result = GetProfileString("WINDOWS", "DEVICE", "", printerName, 127)
nPos = Instr(printerName, ",")
printerName = Left(printerName, nPos - 1)
 
'Set the default printer to landscape (printer name, landscape orientation)
result = SetPrinterOrientation(printerName, 2)

Create a Script Library named ChangePrinterOrientation with the code below.

In the declarations tab:
Type DIVT
 quot As Long
 remain As Long
End Type

Private Type PRINTER_DEFAULTS
 pDatatype As Long
 pDevmode As Long
 DesiredAccess As Long
End Type

Private Type PRINTER_INFO_2
 pServerName As Long
 pPrinterName As Long
 pShareName As Long
 pPortName As Long
 pDriverName As Long
 pComment As Long
 pLocation As Long
 pDevmode As Long 
 pSepFile As Long
 pPrintProcessor As Long
 pDatatype As Long
 pParameters As Long
 pSecurityDescriptor As Long 
 Attributes As Long
 Priority As Long
 DefaultPriority As Long
 StartTime As Long
 UntilTime As Long
 Status As Long
 cJobs As Long
 AveragePPM As Long
End Type

Type DEVMODE
 dmDeviceName As String * 32
 dmSpecVersion As Integer
 dmDriverVersion As Integer
 dmSize As Integer
 dmDriverExtra As Integer
 dmFields As Long
 dmOrientation As Integer
 dmPaperSize As Integer
 dmPaperLength As Integer
 dmPaperWidth As Integer
 dmScale As Integer
 dmCopies As Integer
 dmDefaultSource As Integer
 dmPrintQuality As Integer
 dmColor As Integer
 dmDuplex As Integer
 dmYResolution As Integer
 dmTTOption As Integer
 dmCollate As Integer
 dmFormName As String * 32
 dmUnusedPadding As Integer
 dmBitsPerPel As Integer
 dmPelsWidth As Long
 dmPelsHeight As Long
 dmDisplayFlags As Long
 dmDisplayFrequency As Long
 dmICMMethod As Long
 dmICMIntent As Long
 dmMediaType As Long
 dmDitherType As Long
 dmReserved1 As Long
 dmReserved2 As Long
End Type

Declare Function ClosePrinter Lib "winspool.drv" (Byval hPrinter As Long) As Long

Declare Function DocumentProperties Lib "winspool.drv"_
Alias "DocumentPropertiesA" (Byval hwnd As Long, _
Byval hPrinter As Long, Byval pDeviceName As String, _
pDevModeOutput As Long, pDevModeInput As Long, _
Byval fMode As Long) As Long

Declare Function GetPrinter Lib "winspool.drv" Alias _
"GetPrinterA" (Byval hPrinter As Long, Byval Level As Long, _
pPrinter As Long, Byval cbBuf As Long, pcbNeeded As Long) As Long

Declare Function OpenPrinter Lib "winspool.drv" Alias _
"OpenPrinterA" (Byval pPrinterName As String, phPrinter As Long, _
pDefault As PRINTER_DEFAULTS) As Long

Declare Function SetPrinter Lib "winspool.drv" Alias "SetPrinterA" (Byval hPrinter As Long,_
Byval Level As Long, pPrinter As Long, Byval commandl As Long) As Long

Declare Sub CopyMemory Lib "Kernel32" Alias "RtlMoveMemory" _
(pDest As DEVMODE, pSource As Long, Byval cbLength As Long)

Declare Sub CopyMemoryBack Lib "Kernel32" Alias "RtlMoveMemory" _
(pDest As Long, pSource As DEVMODE, Byval cbLength As Long)

Declare Sub CopyMemoryPI Lib "Kernel32" Alias "RtlMoveMemory" _
(pDest As PRINTER_INFO_2, pSource As Long, Byval cbLength As Long)

Declare Sub CopyMemoryBackPI Lib "Kernel32" Alias "RtlMoveMemory" _
(pDest As Long, pSource As PRINTER_INFO_2, Byval cbLength As Long)

Declare Function labs Lib "msvcrt.dll" Alias "labs"_
(param As Long) As Long

Declare Function ldiv Lib "msvcrt.dll" (Byval q As Long, divisor As Long) As Long

In the SetPrinterOrientation function:
Public Function SetPrinterOrientation(Byval sPrinterName As String,Byval orientation As Integer)
 As Long
 
 Const DM_IN_BUFFER = 8
 Const DM_OUT_BUFFER = 2
 Const PRINTER_ACCESS_ADMINISTER = &H4
 Const PRINTER_ACCESS_USE = &H8
 Const STANDARD_RIGHTS_REQUIRED = &HF0000
 Const PRINTER_ALL_ACCESS = (STANDARD_RIGHTS_REQUIRED Or _
 PRINTER_ACCESS_ADMINISTER Or PRINTER_ACCESS_USE)
 
 
 Dim hPrinter As Long
 Dim pd As PRINTER_DEFAULTS
 Dim pinfo As PRINTER_INFO_2
 Dim dm As DEVMODE
 Dim dm2 As DEVMODE
 Dim yDevModeData() As Long
 Dim yPInfoMemory() As Long
 Dim nBytesNeeded As Long
 Dim nRet As Long, nJunk As Long
 Dim q As Long
 
 On Error Goto cleanup
 
 'Open printer with all access to be able to modify settings
 pd.DesiredAccess = PRINTER_ALL_ACCESS
 nRet = OpenPrinter(sPrinterName, hPrinter, pd)
 nRet = DocumentProperties(0, hPrinter, sPrinterName, 0, 0, 0)
 If (nRet < 0) Then
  Msgbox "Cannot get the size of the DEVMODE structure."
  Goto cleanup
 End If
 
 Redim yDevModeData(nRet + 100) As Long
 
 nRet = DocumentProperties(0, hPrinter, sPrinterName, yDevModeData(0), 0, DM_OUT_BUFFER)
 If (nRet < 0) Then
  Msgbox "Cannot get the DEVMODE structure."
  Goto cleanup
 End If
 
 Call CopyMemory(dm, yDevModeData(0), Len(dm))
 dm.dmOrientation = orientation
 Call CopyMemoryBack(yDevModeData(0), dm, Len(dm))
 nRet = DocumentProperties(0, hPrinter, sPrinterName, _
 yDevModeData(0), yDevModeData(0), _
 DM_IN_BUFFER Or DM_OUT_BUFFER)
 
 If (nRet < 0) Then
  Msgbox "Unable to set some settings to this printer."
  Goto cleanup
 End If
 
 Call GetPrinter(hPrinter, 2, 0, 0, nBytesNeeded)
 If (nBytesNeeded = 0) Then Goto cleanup
 
 Redim yPInfoMemory(nBytesNeeded + 100) As Long
 
 nRet = GetPrinter(hPrinter, 2, yPInfoMemory(0), nBytesNeeded, nJunk)
 If (nRet = 0) Then
  Msgbox "Unable to get shared printer settings."
  Goto cleanup
 End If
 
 Call CopyMemoryPI(pinfo, yPInfoMemory(0), Len(pinfo))
 pinfo.pDevmode = labs(yDevModeData(0))
 pinfo.pSecurityDescriptor = 0
 Call CopyMemoryBackPI(yPInfoMemory(0), pinfo, Len(pinfo))
 
 nRet = SetPrinter(hPrinter, 2, yPInfoMemory(0), 0)
 If (nRet = 0) Then
  Msgbox "Unable to set shared printer settings."
 End If
 
 SetPrinterOrientation = nRet
 
cleanup:
 If (hPrinter <> 0) Then Call ClosePrinter(hPrinter)
 
End Function
  
  
Dig Deeper on LotusScript