Changing the sender's email address in web mail
This tip describes how to change the sender's e-mail address in Web mail.
Looking for something else?
Hello, I have a small lotusscript agent to send mail notifications in my web application whenever somebody registers to my website. However, the mail always carries the server name as the sender's address.

Download this free guide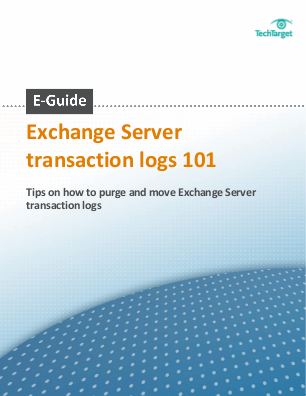 Download this strategic guide on moving Exchange Server transaction logs
Brush up on how log files have changed in Exchange to protect your setup against disaster, discover how to effectively purge transaction logs, and learn how to free up some of the disk space transaction logs have taken up on your drive.
By submitting your email address, you agree to receive emails regarding relevant topic offers from TechTarget and its partners. You can withdraw your consent at any time. Contact TechTarget at 275 Grove Street, Newton, MA.
You also agree that your personal information may be transferred and processed in the United States, and that you have read and agree to the Terms of Use and the Privacy Policy.

I searched notes.net and several other forums without any success. Then I found this simplest answer to this problem by chance.

 the correct syntax is : doc.principal = "<emailaddress><blankspace>" for example, if you want vrk_prasad@hotmail.com to be your sender's email address, then the code is : doc.principal = "vrkprasad@hotmail.com " likewise, if you want capture the sender's address through user's input the code is doc.principal = email+" " where 'email' is the email address entered by the user or stored in a field. the email should be suffixed by a single blank space. another example, doc.principal = "RK Prasad Venugopal <vrk_prasad@hotmail.com> ". Again the blank space after the email address is very important. If you miss it, it will give wrong results. I hope this will solve the problem many of us facing. Thanks & Regards Ramakrishnaprasad Venugopal vrk_prasad@hotmail.com vrkprasad@hotmail.com

Dig Deeper on Domino Resources - Part 3