Chapter 6: Crawling the Web with Java
Learn how to use Java to implement a customized Web crawler.
This Article Covers
RELATED TOPICS
Crawler technology is useful in many types of Web-related applications For example, you might use a crawler to look for broken links in a commercial Web site. You might also use a crawler to find changes to a Web site.

Download this free guide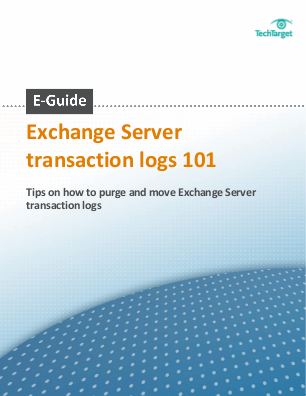 Download this strategic guide on moving Exchange Server transaction logs
Brush up on how log files have changed in Exchange to protect your setup against disaster, discover how to effectively purge transaction logs, and learn how to free up some of the disk space transaction logs have taken up on your drive.
By submitting your email address, you agree to receive emails regarding relevant topic offers from TechTarget and its partners. You can withdraw your consent at any time. Contact TechTarget at 275 Grove Street, Newton, MA.
You also agree that your personal information may be transferred and processed in the United States, and that you have read and agree to the Terms of Use and the Privacy Policy.

Although Web crawlers are conceptually easy, in that you just follow the links from one site to another, they are a bit challenging to create. One complication is that a list of links to be crawled must be maintained, and this list grows and shrinks as sites are searched. Another complication is the complexity of handling absolute versus relative links.
Fortunately, Java contains features that help make it easier to implement a Web crawler. First, Java's support for networking makes downloading Web pages simple. Second, Java's support for regular expression processing simplifies the finding of links. Third, Java's Collection Framework supplies the mechanisms needed to store a list of links.
The Web crawler developed in this chapter from the book The Art of Java, by Herbert Schildt and James Holmes, is called Search Crawler. It crawls the Web, looking for sites that contain strings matching those specified by the user. It displays the URLs of the sites in which matches are found. Although Search Crawler is a useful utility as is, its greatest benefit is found when it is used as a starting point for your own crawler-based applications.
Dig Deeper on Java for Lotus Notes Domino