Check Internet password with JavaScript
This tip describes how to check Internet passwords with JavaScript.
Looking for something else?
We allow our web users to change their internet password, but to avoid a passerby of a logged in browser to use the feature, the current password must be entered. Here's how....

Download this free guide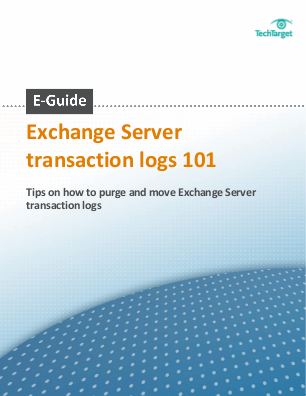 Download this strategic guide on moving Exchange Server transaction logs
Brush up on how log files have changed in Exchange to protect your setup against disaster, discover how to effectively purge transaction logs, and learn how to free up some of the disk space transaction logs have taken up on your drive.
The form has three editable fields - oldPassword, newPassword, newPassword2 (for typing confirmation). The new password and the confirmation are compared by JavaScript, client side. The following is a code segment of an agent launched by a button. The key is using the @Function @Password to encrypt the oldPassword for comparison to the HTTPPassword item value in the Person Document.

Set personDocument = personView.
getDocumentbykey(webDoc.Remote_User(0))
 If Not personDocument Is Nothing Then
  
  If UserProfileDoc.FirstLoginFlag(0) = "1" 
Then 'if not first login required password 
change, check old passsword 
   Dim oldPass
   oldPass = Evaluate("@Password
(oldPassword)", webDoc)
   If persondocument.HTTPPassword(0) 
<> oldpass(0) Then
    alert = |window.alert("Old Password for
 CQMi account | & webDoc.Remote_User(0) 
& | Invalid..")|
    Print"<javascript>"
    Print "<SCRIPT LANGUAGE=
JavaScript>"
    Print alert
    Print "window.history.back()"
    Print "</SCRIPT>" 
    Exit Sub
   End If
  End If
  persondocument.HTTPPassword = 
webDoc.newpassword(0)
  Call persondocument.ComputeWithForm
( False, False )
  persondocument.Save False, True 
  alert = |window.alert("Password for 
CQMi account | & webDoc.Remote_User(0) 
& | changed...")|
 
Dig Deeper on JavaScript for Lotus Notes Domino