Check attachment size before doc is saved
This tip describes how to check attachment sized before doc is saved.
Looking for something else?
Use the following code in the Querysave event to prevent saving a document that exceeds size limits you want to impose.
To avoid getting an extra prompt to save the document when the limit is exceeded, you'll either want to use the formula "@If(@Command([FileSave]);@Command([FileCloseWindow])" or use a hidden, editable "SaveOptions" field on the form, with a default text value of "1". If you use the SaveOptions field, then enable the "fieldsettext" calls in the script below.


Download this free guide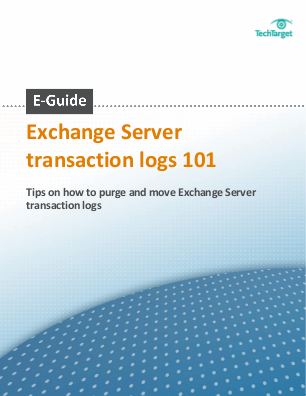 Download this strategic guide on moving Exchange Server transaction logs
Brush up on how log files have changed in Exchange to protect your setup against disaster, discover how to effectively purge transaction logs, and learn how to free up some of the disk space transaction logs have taken up on your drive.
By submitting your email address, you agree to receive emails regarding relevant topic offers from TechTarget and its partners. You can withdraw your consent at any time. Contact TechTarget at 275 Grove Street, Newton, MA.
You also agree that your personal information may be transferred and processed in the United States, and that you have read and agree to the Terms of Use and the Privacy Policy.


Dim ws As New NotesUIWorkspace
Dim uidoc As NotesUIDocument
Dim doc As NotesDocument
Dim totalSize As Long

Set uidoc = ws.CurrentDocument
Set doc = uidoc.document

Call uidoc.refresh(True)
Dim rtitem As Variant
Dim embedObjs As Variant

Set rtitem = doc.getFirstItem("Body")
embedObjs = rttem.embeddedObjects
totalSize = 0
dim oneMB as long
oneMB = 1048576


If Not Isempty(embedObjs) Then
 For i = 0 To Ubound(embedObjs)
  totalSize = totalSize + embedObjs(i).
filesize
  If embedObjs(i).filesize > 2 * oneMB 
Then
     Msgbox("Your attachment '"  +
embedObjs(i).name +"' is " +Cstr(Round
     (embedObjs(i).filesize / oneMB,1)) +"    
mb. The limit is 2.0 mb.")
     continue = False
     'Call uidoc.fieldsettext
("SaveOptions","0")
   End If
 Next

 If totalSize > 4 * oneMB Then
    Msgbox("Your total attachment size is " 
+Cstr(Round (totalSize /
    oneMB,1)) +" mb.  The limit is 4.0 mb.")
    continue = False
    'Call uidoc.fieldsettext("SaveOptions","0")
  End If
End If

Dig Deeper on LotusScript