Cleaning Up Form/Page Without Typing in HTML
Looking for something else?
This tip eliminates typing in the HTML on a page or a form and gives the page or form a cleaner look (by storing the HTML Code in different HTML files).

Download this free guide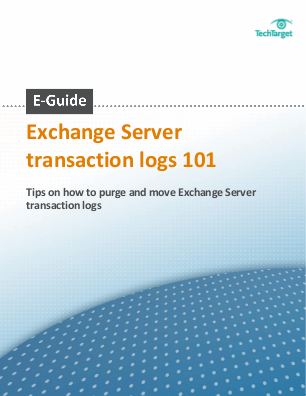 Download this strategic guide on moving Exchange Server transaction logs
Brush up on how log files have changed in Exchange to protect your setup against disaster, discover how to effectively purge transaction logs, and learn how to free up some of the disk space transaction logs have taken up on your drive.
By submitting your email address, you agree to receive emails regarding relevant topic offers from TechTarget and its partners. You can withdraw your consent at any time. Contact TechTarget at 275 Grove Street, Newton, MA.
You also agree that your personal information may be transferred and processed in the United States, and that you have read and agree to the Terms of Use and the Privacy Policy.

This is similar to including server side "*.js" files.
<SCRIPT SRC="/Server/Database.nsf/vwScriptLibrary/isPhoneNo/$FILE/serverscript.js?OpenElement"></SCRIPT>
Code your HTML in a file and save it as somecode.htm or .html.
Store this HTML file as New Image Resource (R5 Designer).
Now treat this as an image and insert where you want in the page.
Be careful that the HTML code you will be inserting should be a subset of original code, if you code the entire page. i.e (If you are inserting a table make sure you will have only tags necessary for creation of table and not the beginning/ending HTML or body tags).
For 4.x
The URL HOTSPOT should look like this:
http://server/myDatbase/(imagesView)/somecode.html/$file/somecode.html
Dig Deeper on Domino Resources - Part 3