Concatenating two arrays/strings with Trim and Unique option
Concatenating two arrays/strings with Trim and Unique option
Looking for something else?
This function is used to concatenate two arrays or strings and returns the concatenated values based on the filter options specified. The filter options are
1. Trim the null entries
2. Unique entry

Download this free guide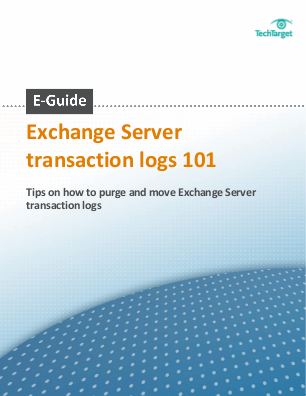 Download this strategic guide on moving Exchange Server transaction logs
Brush up on how log files have changed in Exchange to protect your setup against disaster, discover how to effectively purge transaction logs, and learn how to free up some of the disk space transaction logs have taken up on your drive.
By submitting your email address, you agree to receive emails regarding relevant topic offers from TechTarget and its partners. You can withdraw your consent at any time. Contact TechTarget at 275 Grove Street, Newton, MA.
You also agree that your personal information may be transferred and processed in the United States, and that you have read and agree to the Terms of Use and the Privacy Policy.

The filter option specified can be any one them or both. If none of the above action is specified, then the concatenated values will be returned as it is. The 'ConcatArray' is the main function which in turn calls 2 other functions 'TrimArray' and 'Unique'.
A sample code to use this function:

Sub Click(Source As Button) Const PARAM_NULL = "" Const PARAM_TRIM = 1 Const PARAM_UNIQUE = 2 Dim Array1(3) As Variant Dim Array2(1) As Variant Dim array3 As Variant Array1(0) = "List1" Array1(1) = "List2" Array1(2) = "" Array1(3) = "List4" Array2(0) = "List1" Array2(1) = "List3" Array3 = ConcatArray(Array1, Array2, PARAM_TRIM + PARAM_UNIQUE) Forall item In Array3 Msgbox Item, 0 , "ConcatArray" End Forall Array3 = ConcatArray("Hello", Array2, PARAM_TRIM) Forall item In Array3 Msgbox Item, 0 , "ConcatArray" End Forall Array3 = ConcatArray("Hello", "World", PARAM_TRIM) Msgbox Array3, 0 , "ConcatArray" End Sub


Function ConcatArray ( vArray1 As Variant, vArray2 As Variant , Byval iOption As Integer) As Variant ' Author: C.Saravanan ' Purpose : This function is used to concatenate two arrays/strings. It has options to trim or unique the resultant value. Const PARAM_NULL = "" Const PARAM_TRIM = 1 Const PARAM_UNIQUE = 2 Dim vFinalList () As Variant Dim iFListIdx As Integer Dim strValues As String ConcatArray = PARAM_NULL strValues = "" If Not Isarray(vArray1 ) And Not Isarray(vArray2 ) Then ConcatArray = Cstr(vArray1) + Cstr(vArray2) Else If Not Isarray(vArray1) Then Redim vFinalList(Ubound(vArray2)+1) For iFListIdx = Lbound(vArray2) To Ubound(vArray2) vFinalList(iFListIdx) = vArray2(iFListIdx) Next vFinalList(iFListIdx) = vArray1 Elseif Not Isarray(vArray2) Then Redim vFinalList(Ubound(vArray1)+1) For iFListIdx = Lbound(vArray1) To Ubound(vArray1) vFinalList(iFListIdx) = vArray1(iFListIdx) Next vFinalList(iFListIdx) = vArray2 Else iFListIdx = -1 Forall Item In vArray1 iFListIdx = iFListIdx + 1 Redim Preserve vFinalList(iFListIdx) vFinalList(iFListIdx) = Cstr(Item) End Forall Forall Item In vArray2 iFListIdx = iFListIdx + 1 Redim Preserve vFinalList(iFListIdx) vFinalList(iFListIdx) = Cstr(Item) End Forall End If Select Case iOption Case PARAM_UNIQUE: ' Unique ConcatArray = Unique(vFinalList) Case PARAM_TRIM: ' Trim ConcatArray = TrimArray(vFinalList) Case PARAM_UNIQUE + PARAM_TRIM: ' Unique + Trim ConcatArray = TrimArray(Unique(vFinalList)) Case Else ConcatArray = vFinalList End Select End If End Function Function TrimArray(vGivenList As Variant) As Variant ' Function written by C.Saravanan ' Purpose : Used to eliminate the duplicate values in an array. (No @Formula used) ' Advantage over @Formula fn - This function will handle all characters (including ; , . [all special chars] (etc)) Dim vFinalList () As Variant Dim iFListIdx As Integer Dim iFound As Integer iFListIdx = -1 If Isarray(vGivenList) Then Forall GItem In vGivenList If GItem <> "" Then iFListIdx = iFListIdx + 1 Redim Preserve vFinalList(iFListIdx) vFinalList(Ubound(vFinalList)) = GItem End If End Forall TrimArray = vFinalList Else TrimArray = vGivenList End If End Function Function Unique(vGivenList As Variant) As Variant ' Function written by C.Saravanan ' Purpose : Used to eliminate the duplicate values in an array. (No @Formula used) ' Advantage over @Formula fn - This function handles all characters (including ; , . [all special chars] (etc)) Dim vFinalList () As Variant Dim iFListIdx As Integer Dim iFound As Integer iFListIdx = -1 If Isarray(vGivenList) Then Forall GItem In vGivenList iFound = False Forall FItem In vFinalList If FItem = GItem Then iFound = True Exit Forall End If End Forall If Not iFound Then iFListIdx = iFListIdx + 1 Redim Preserve vFinalList(iFListIdx) vFinalList(Ubound(vFinalList)) = GItem End If End Forall Unique = vFinalList Else Unique = vGivenList End If End Function

Dig Deeper on Domino Resources - Part 3