Control Of The From Field In Mails Sent From Agents
Looking for something else?
In many databases there is one or more agents that's sends mail.
On all mails, the Notes mailer set's the 'from' field to the programmers name
(the person that have made or last saved the agent).

The programmer will receive a lot of replys on these mails.

You cant change the From field on mailed documents - this is done automatically
by the server or the clients mailer program.

But you can change the From field on Saved documents - so the solutions is
simpel:
1. Create the mail as a new document in the servers mail.box
2. Assign values to these fields:
Form = Memo
SendTo = Name, group, shortname for receipients
Receipients = Fullnames for all receipients for the mail
From = Who is the mail from? The user will reply to this address
3. Save the document

Now the servers mailer task will process the document as a normal mail.


'Sent a mail to Peter from Santa
dim session as new NotesSession
dim thisDb as NotesDatabase
dim mailboxDb as NotesDatabase
dim mailDoc as NotesDocument

'Locate the servers mail.box database
set thisDb = session.CurrentDatabase
set mailboxDb = session.GetDatabase( thisDb.server, "mail.box" )

'Create the new mail
set mailDoc = mailboxDb.CreateDocument

'Assign values to the fields in the mail
mailDoc.Form = "Memo"
mailDoc.SendTo = "Peter"
mailDoc.Receipients = "Peter/TheCompany"
mailDoc.From = "Santa"
mailDoc.Subject = "Mail from Santa"
mailDoc.Body = "The text goes here"

'Save the document in the mail.box (if you Send the document, Notes will
overwrite the From field)
call mailDoc.Save( True, True )




Download this free guide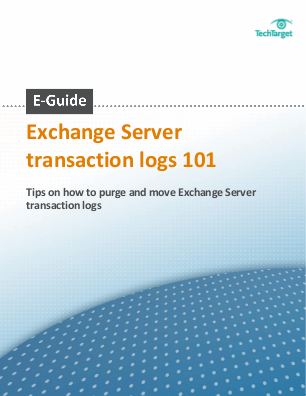 Download this strategic guide on moving Exchange Server transaction logs
Brush up on how log files have changed in Exchange to protect your setup against disaster, discover how to effectively purge transaction logs, and learn how to free up some of the disk space transaction logs have taken up on your drive.
By submitting your email address, you agree to receive emails regarding relevant topic offers from TechTarget and its partners. You can withdraw your consent at any time. Contact TechTarget at 275 Grove Street, Newton, MA.
You also agree that your personal information may be transferred and processed in the United States, and that you have read and agree to the Terms of Use and the Privacy Policy.

Dig Deeper on Domino Resources - Part 3