Convert A Pair Of True/False Conditions Into An Appropriate Message
Looking for something else?
Sometimes you want to translate a true/false boolean condition into an
equivalent text message. This is simple with just one true/false value:

TruthMessage := @If( Booleanvalue ; "True message" ; "False message")

But how do you handle multiple boolean values that combine in multiple ways?
For example, a pair of Boolean variables, NorthBool and SouthBool, give rise to
four possible messages, depending on whether both are True, both are False,
NorthBool only is true, or SouthBool only is true. Without using a complex nest
of @If functions, the following formula code produces an appropriate message
for each combination. It is generic and can be used for multiple Boolean
variables:

Choices := "Neither":"North Only":"South Only":"Both";
Index := ?SouthBool*2 + NorthBool + 1;
TruthMessage := @Subset(@Subset(Choices;Index); -1)



Download this free guide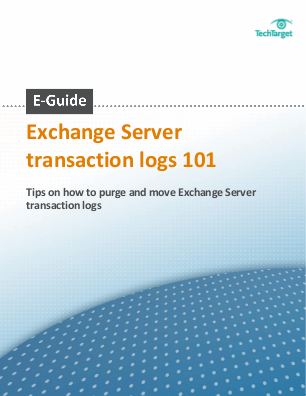 Download this strategic guide on moving Exchange Server transaction logs
Brush up on how log files have changed in Exchange to protect your setup against disaster, discover how to effectively purge transaction logs, and learn how to free up some of the disk space transaction logs have taken up on your drive.
By submitting your email address, you agree to receive emails regarding relevant topic offers from TechTarget and its partners. You can withdraw your consent at any time. Contact TechTarget at 275 Grove Street, Newton, MA.
You also agree that your personal information may be transferred and processed in the United States, and that you have read and agree to the Terms of Use and the Privacy Policy.

Dig Deeper on Domino Resources - Part 3