Convert rich text field contents to standard text
This tip describes converting rich text field contents to standard text.
Looking for something else?
PRODUCTS
Many times I have a challenge where I need to convert notes rich text field content into standard text (for instance, displaying the contents of a rich text field in a view!). Here is a quick solution to this challenge.

Download this free guide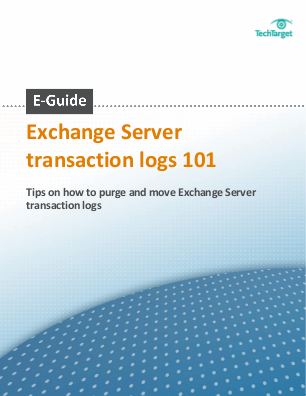 Download this strategic guide on moving Exchange Server transaction logs
Brush up on how log files have changed in Exchange to protect your setup against disaster, discover how to effectively purge transaction logs, and learn how to free up some of the disk space transaction logs have taken up on your drive.
By submitting your email address, you agree to receive emails regarding relevant topic offers from TechTarget and its partners. You can withdraw your consent at any time. Contact TechTarget at 275 Grove Street, Newton, MA.
You also agree that your personal information may be transferred and processed in the United States, and that you have read and agree to the Terms of Use and the Privacy Policy.

First, Create a rich text field on your form. You can call this what ever you like (just remember it!). I will call mine MyRichText1. Now create a plain text field on the same form to hold the converted contents. I will call mine MyPlainText1. Be sure to make this field type to "Text" and make it "Computed". You can hide this field from the edit mode or hide it totally if you are just using it to convert. In the programmers pane for the plain text field (MyPlainText1), enter the following formula: @Abstract([TextOnly];512;" ";"MyRichText1"). I know you are wondering what the 512 number represents. It is the maximum size (in bytes) of the text you want to bring in. This formula takes the content stored in the rich text field (MyRichText1), converts the text into plain text and places it in the field MyPlainText1. Pictures and other embedded media are ignored. Now you can use this new plain text content in views and in agents to send plain text e-mail and do all sorts of cool things. Good Luck!!!

 @Abstract([TextOnly];512;" ";"MyRichText1")

Dig Deeper on Domino Resources - Part 3