Converting Lotus Notes views to XML documents using JavaScript
To convert Lotus Notes views to XML, you can use the ReadViewEntries command. This tip gives another method -- parsing XML content using JavaScript.
Looking for something else?
The Lotus Notes 6.5.4
viewname?ReadViewEntries
command allows you to convert Lotus Notes views into XML documents; but I wanted to use JavaScript instead.
To accomplish this, I parsed the XML content to display as HTML, without using the Extensible Stylesheet Language (XSL) or Extensible Stylesheet Language Transformation (XSLT) methods when opening a Web page.
Using this JavaScript code and method, a sample URL would look like this:
http://hostname/path/db.nsf/viewName?ReadViewEntries.
Note: I took a view named "Keywords" from two columns ("Keyword" and "Values").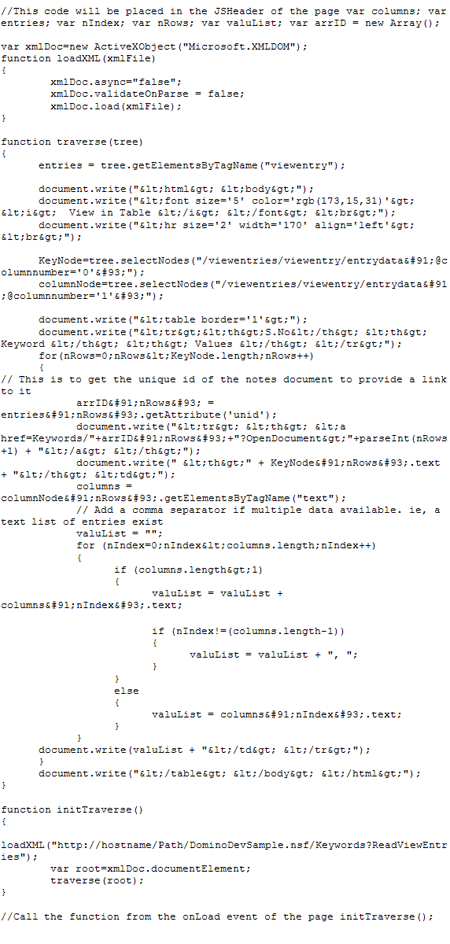 (Click on code for enlarged view and script download.)
Do you have comments on this tip? Let us know.
This tip was submitted to the SearchDomino.com tip library by member Gunasekaran Subramanian. Please let others know how useful it is via the rating scale below. Do you have a useful Lotus Notes, Domino, Workplace or WebSphere tip or code snippet to share? Submit it to our monthly tip contest and you could win a prize.

Dig Deeper on JavaScript for Lotus Notes Domino