Correcting cut and paste errors from Word
This tip describes how to correct the cut and paste errors that occur in Word.
Looking for something else?
Have you ever come across the problem; when a user cuts and pastes a document from a "word document" into a TEXTAREA on your notes form, the quotation marks become question marks?
e.g. the user intended "the general" the form created ?the general?

Download this free guide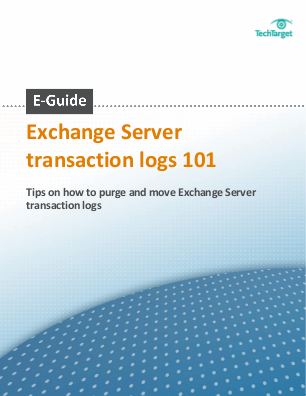 Download this strategic guide on moving Exchange Server transaction logs
Brush up on how log files have changed in Exchange to protect your setup against disaster, discover how to effectively purge transaction logs, and learn how to free up some of the disk space transaction logs have taken up on your drive.
By submitting your email address, you agree to receive emails regarding relevant topic offers from TechTarget and its partners. You can withdraw your consent at any time. Contact TechTarget at 275 Grove Street, Newton, MA.
You also agree that your personal information may be transferred and processed in the United States, and that you have read and agree to the Terms of Use and the Privacy Policy.

This code when added to the onBlur event of a TEXTAREA will remove that error by converting the bogus ascii codes to ones which are understandable by notes.


add onBlur="RepairPasteFromWord(this)"
 to your TEXTAREA fields.

in the jsHeader
function RepairPasteFromWord(field){

/*
This function corrects the text if it has been 
cut and pasted from word.
Quotation marks do not come through as 
standard character codes and notes 
intpretes them as a ?
"This method will also work for normal 
text fields as well"
*/

var sTemp=field.value
//we are going to replace the 
var sTemp2=escape(sTemp)
//replace front quote mark "
sTemp2=sTemp2.replace
(/%u201C/gi, "%22")
//replace end quote mark "
sTemp2=sTemp2.replace
(/%u201D/gi, "%22")
//replace opening single quote mark '
sTemp2=sTemp2.replace
(/%u2018/gi, "%27")
//replace closing single quote mark '
sTemp2=sTemp2.replace
(/%u2019/gi, "%27")
field.value=unescape(sTemp2)
}



Dig Deeper on JavaScript for Lotus Notes Domino