Creating URL Redirects from the Web
Looking for something else?
If you've ever needed a way to allow developers access to create their own URL redirects from the Web, here's a quick and dirty solution.
I created a form that mirrors the mapping form in Domino Administrator. After authenticating, the developer has a drop down list of the servers in which they can create redirects. I use JavaScript to validate the fields and from an onClick event, I run an agent that creates a response doc to the server doc called "Mapping". I get a handle to the "WebConfigurations" view in the NAB and a handle to the server doc where I want to add the redirect.

Download this free guide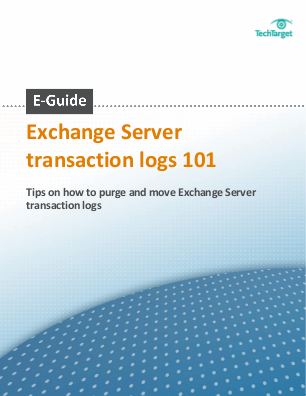 Download this strategic guide on moving Exchange Server transaction logs
Brush up on how log files have changed in Exchange to protect your setup against disaster, discover how to effectively purge transaction logs, and learn how to free up some of the disk space transaction logs have taken up on your drive.
By submitting your email address, you agree to receive emails regarding relevant topic offers from TechTarget and its partners. You can withdraw your consent at any time. Contact TechTarget at 275 Grove Street, Newton, MA.
You also agree that your personal information may be transferred and processed in the United States, and that you have read and agree to the Terms of Use and the Privacy Policy.

In order for these changes to take effect, I created two program documents to stop and start HTTP overnight. Otherwise, the developer can contact me immediately to determine when I can stop/start HTTP.
Here are the parameters for the program documents:
Program name: nserver
Command line: -c "tell http quit"
Server to run on: <BR> Comments: quits http task </P> <P> Program name: nserver<BR> Command line: -c "load http"<BR> Server to run on: <Server Name><BR> Comments: starts http task </P> <P> Remember to enable the program and select a time to run each document. I found setting them to run within a minute of each other works best. </P> <BR><P> <PRE> Sub Initialize Dim session As New NotesSession Dim db As NotesDatabase Dim view As NotesView Dim doc As NotesDocument Dim redirectDoc As NotesDocument Dim webDoc As NotesDocument Set webDoc = session.documentcontext Set db = New NotesDatabase("","names.nsf") Set view = db.GetView("WebConfigurations") Set doc = view.GetDocumentByKey("<Server Name>") Set redirectDoc = db.CreateDocument Call redirectDoc.MakeResponse(doc) redirectDoc.Form = "Mapping" redirectDoc.ServerName = webDoc.ServerName(0) redirectDoc.MappingType = "3" 'URL -> Redirection URL redirectDoc.MapType = "Redirect" redirectDoc.Type = "Mapping" redirectDoc.RM_MapFrom = webDoc.MapFrom(0) 'incoming URL string redirectDoc.RM_MapTo = webDoc.MapTo(0) 'redirection URL string Call redirectDoc.Save(True,True) End Sub </PRE> </P></body></html>
Dig Deeper on Domino Resources - Part 3